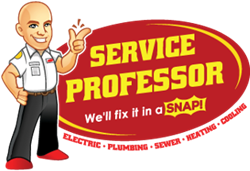 'We want only the best Plumbers, Electricians & Technicians working for us" -Brad
Grand Rapids, MI (PRWEB) November 22, 2016
A Grand Rapids, Michigan based heating, cooling, electrical and plumbing company is investing in people to grow West Michigan.
Service Professor said today that it has doubled its efforts to hire multiple technicians to fulfill its growing demand.
Growth
"We have grown as consumers continue to look for the best heating, cooling, electrical and plumbing company in the Grand Rapids Area." - Brad Krause CEO
With local history dating back nearly 40 years, the Service Professor has grown from a small electrical company based in Greenville, Michigan, to one of the largest home service repair companies in West Michigan. In 2013 we moved operations to our present location near the Gerald R. Ford International Airport where we now serve more than 15,000 residential and commercial customers in 7 counties providing the very best electrical, plumbing, heating, and cooling service and repair.
Our commitment to providing exemplary service is both the foundation of our business model, as well as the driving force behind everything we do. Join a team that values transparency and integrity, and stands behind the work they do
Visit their website to learn more at serviceprofessor.com