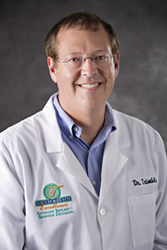 Eau Claire, WI (PRWEB) November 07, 2016
Dr. Bruce Trimble is pleased to announce that he is now accepting new patients from Eau Claire, WI for Fastbraces® treatments at his Menomonie, WI, practice. The expansion of his practice means that this advanced method of aligning teeth is now available to people who require orthodontics in Eau Claire, WI, without need a referral. Faster and more comfortable, this technique uses high performance bracket systems to rotate both roots and teeth simultaneously and eliminate superfluous stages of the process.
Individuals require orthodontic treatment for a number of reasons. For example, a person may have a crossbite, overbite or open bite that prevents the upper and lower teeth from meeting. This can lead to broken teeth, improper wear and gum disease. If the arch is not big enough, teeth may overlap as they come in. Sometimes canines erupt above the gum line as a result of crowding. These issues can make it difficult for proper dental hygiene and lead to tooth decay and gum disease. Wide spaces between teeth may lead to shifting or problems with the gums such as deeper pockets.
Traditional braces often take up to two years to align the teeth because they do not shift tooth roots until after the crowns have been moved into position. Fastbraces treatments have a triangular design that fulfills both of these tasks at once. Each person receives an individualized plan based on the pictures and radiographs that Dr. Trimble takes of the teeth. The shape of the braces is adjusted so that there is more distance between them, engaging the wire in a way that begins engaging the roots immediately. Rather than the two years that is typical for tooth alignment, this system may take as little as 25 weeks.
People who want a beautiful smile and improved oral health without the long, drawn-out process can learn more about Fastbraces technology at http://www.trimbledental.com. Those in Eau Claire, WI, who are interested in this method of orthodontics can call (715) 235-1108 to schedule an appointment.
About the Doctor
Trimble Dental Excellence is a general practice offering personalized care for patients in Menomonie, WI. Dr. Bruce Trimble offers a variety of services, including advanced dental implants and sedation dentistry. Dr. Trimble is a graduate of the University of Minnesota and has dedicated his professional career to providing you with the best that dentistry has to offer. He is continually educating himself and his staff on the newest techniques and advances to offer you state-of-the-art, antiseptic, personalized & comfortable dental care. Dr. Trimble is a fellow of the International Congress of Oral Implantologists & the Misch International Implant Institute. He is also among the few dentists in Wisconsin who are licensed for IV sedation and has received a certificate from the Temple School of Dentistry for Surgical Oral Implantology. To learn more about the services offered at Trimble Dental Excellence, please visit their website, http://www.trimbledental.com or call (715) 235-1108 to schedule an appointment.