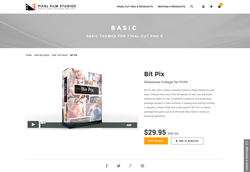 Bit Pix allows users to create beautiful photo collage slideshows with complete ease and total customization in Final Cut Pro X
Aliso Viejo, California (PRWEB) November 08, 2016
"Bit Pix allows users to create beautiful photo collage slideshows with complete ease and total customization in Final Cut Pro X," said Christina Austin - CEO of Pixel Film Studios.
Bit Pix's 30 pre-made layouts come in a variety of shapes and sizes in FCPX. This large selection includes layouts with anywhere from 2 to 5 drop zones. After choosing a layout, pick an animation direction from the drop-down menu. In addition to left,right,up and down animations users can also choose combinations like Down & Left or Up & Right. The text is editable by default and can be placed anywhere throughout the scene. Adjust the amount of zoom for each drop zone using a simple slider control.
Both the color of the frames and the color of the background seen through the cracks between frames can be changed using simple color pickers. Additionally, if users want to color grade whole scenes at once they can drop the Colors & Effects tool into scenes and adjust parameters like desaturation, sepia, tint and value until the necessary look is found.
Bit Pix includes 3 flickering flare overlays so that users have plenty of options. Each of the flares can be color adjusted, brightened and flipped. Adjust the Flicker Amount using a simple slider. Plus, users can add realistic looping dust particles with the dust overlay. Finally, enhance the focus of the scene by darkening the edges with the vignette tool.
Frame text in an elegant box using the two lower thirds and title opener included in Bit Pix. Introduce the start of a video, a new section, profile, setting and more with the customizable opener. Use the self-animating lower thirds to present information. Bit Pix allows users to animate and display interesting text with little to no effort in Final Cut Pro X.
Established in 2006, Aliso Viejo, California-based Pixel Film Studios is an innovative developer of visual effects tools for the post-production and broadcast community. Their products are integrated with popular non-linear editing and compositing products from Apple FCPX. Apple, the Apple logo, Mac OS X, and Macintosh are registered trademarks of Apple Inc. in the U.S. and/or other countries. All other trademarks and trade names are the property of their respective owners.