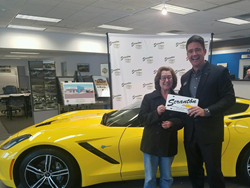 "We're so happy that Rita was the lucky winner in this giveaway."
Norwich, CT (PRWEB) November 08, 2016
Rita Cefalu of Middletown, CT received a Corvette Stingray and $10,000 this past Saturday at Scranton Chevrolet, as the lucky winner of the 'Speed Away in a Stingray Sweepstakes' in conjunction with Mohegan Sun.
"It was a thrill to be able to provide this Corvette giveaway for guests, alongside our friends at Scranton Chevrolet," said Dave Martinelli, Chief Marketing Officer for Mohegan Sun.
On the night she won, Rita almost did not go to Mohegan Sun. Her husband convinced her to bring $40 to the casino and have some fun. In light of her good fortune, Matt and Meg Scranton decided to chip in an extra $40 in casino chips as part of her winnings, so she can try her luck again.
Rita and her husband plan to use the money from their winnings to pay off their current vehicles, which will allow them to retire next year.
"We're so happy that Rita was the lucky winner in this giveaway," said General Manager Matt Scranton. "We couldn't have asked for a more deserving winner. This has truly changed her life and that of her family, and we're so glad to be a part of that."
In addition to this giveaway, Scranton Chevrolet of Norwich and Mohegan Sun have also partnered to give a Chevrolet Impala to a veteran through the Vessels for Veterans program, and to provide food and fun for the Norwich community at the dealership's Grand Opening in July.