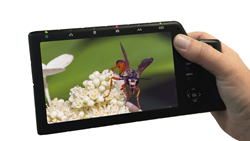 According to Jason Daley at Smithsonian.com, "Clay and Day's Edge Productions pulled out all the stops, using drones, slow motion cameras and swelling music to show the beauty of the little bee and the challenges it faces."
San Diego, CA (PRWEB) November 09, 2016
Fastec Imaging is pleased to have contributed high-speed camera technology for an award-winning documentary bringing attention to the 4,000 species of native bees in North America that are either endangered or at risk of becoming endangered. Natural history photographer Clay Bolt is on a multi-year quest to tell the stories of our native bees. His documentary A Ghost in the Making, is the story of one elusive species, the Rusty-Patched Bumble Bee. For this project, Bolt partnered with Day's Edge Productions, a science, nature, and conservation-oriented, broadcast-ready production company that features a team of Ph.D.-trained scientists and award-winning filmmakers. To film the various bees in action, Day's Edge Productions used the Fastec TS5 high-speed camera, capturing the bees' flight behavior in slow motion on many occasions. According to Jason Daley at Smithsonian.com, "Clay and Day's Edge Productions pulled out all the stops, using drones, slow motion cameras and swelling music to show the beauty of the little bee and the challenges it faces."
Read Jason's article: "The Bee That Breaks Your Heart"
A Ghost in the Making recently won Best Short at the 2016 G2 Green Earth Film Festival. You can watch the 19-minute documentary and view the "slo-mo" action at http://www.rustypatched.com.
Since its introduction in 2015, the Fastec TS5 High-Speed Camera has been used in a wide variety of scientific, industrial, academic and artistic applications. Featuring a 5MP 12-bit high-speed CMOS imaging sensor, a 7" touchscreen display, and a built in SSD to store up to 2TB of image data, the TS5-Q model records up to 2560 x 2048 (QSXGA) at 243fps to onboard memory for 6.3 seconds. Recording speeds increase to a maximum of over 29,000fps at smaller resolutions. At full HD (1920 x 1080), used for this project, the camera records at up to 634fps.
--------------------------------------------------------
Fastec Imaging is a global supplier of digital high-speed imaging systems, based in San Diego, CA. The company specializes in uniquely portable and affordable high-speed camera systems, including handheld point-and-shoot systems, compact PC-controlled cameras, and long duration record systems used in many industries including manufacturing, food and beverage, pharmaceutical, packaging, pulp & paper, energy, aviation, scientific, academic, athletics, and artistic and commercial video production. For more information, visit the Fastec Imaging website at http://www.fastecimaging.com, email us at info(at)fastecimaging(dot)com, or call +1 858.592.2342.