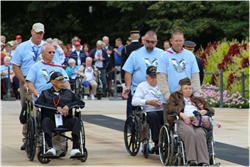 Washington, DC (PRWEB) November 09, 2016
The Disabled Veterans National Foundation (DVNF) (http://www.dvnf.org), is calling on all Americans to honor veterans this Veterans Day, on Friday, November 11th. The organization wants everyone to remember why this holiday is important.
With nearly 50,000 veterans homeless on any given night, and hundreds of thousands still suffering the lasting mental wounds of combat with issues like post-traumatic stress disorder (PTSD) and traumatic brain injury (TBI), DVNF is hoping to shed light on the difficulty so many veterans continue to face.
Joseph VanFonda (USMC SgtMaj Ret.), CEO of DVNF, issued a statement about Veterans Day:
"No words can possibly sum up how military service affects veterans and their families. Sometimes it's good, other times, it's extremely challenging. However, it's important to remember that every veteran, no matter when they served, in which branch they served, or how long they served – each of us made sacrifices, and those sacrifices should never go unnoticed.
"I am calling on all my fellow Americans to pay tribute to veterans this Veterans Day, and thank them for their service to our country. Not a day goes by where I don't think about the men and women I fought beside, and it's my hope that all of our former service members are given the recognition and appreciation they deserve on Veterans Day and hopefully each day going forward."
DVNF is encouraging those seeking a way to recognize a veteran in their life to donate to DVNF in his or her honor, and the organization will post it on its Honor Wall. This is a way to not only show them appreciation for their military service, but to also demonstrate lasting support of veterans through DVNF.
About DVNF:
The Disabled Veterans National Foundation exists to provide critically needed support to disabled and at-risk veterans who leave the military wounded—physically or psychologically—after defending our safety and our freedom.
We achieve this mission by:

Providing an online resource database that allows veterans to navigate the complex process of seeking benefits that they are entitled to as a result of their military service, as well as additional resources they need.
Offering direct financial support to veteran organizations that address the unique needs of veterans, and whose missions align with that of DVNF.
Providing supplemental assistance to homeless and low-income veterans through the Health & Comfort program and various empowerment resources.
Serving as a thought leader on critical policy issues within the veteran community, and educating the public accordingly.