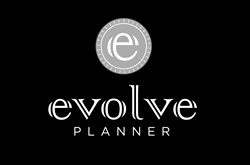 Chicago, Illinois (PRWEB) November 08, 2016
What: With 26 days to go in a Kickstarter campaign, Andrea de Fraga, a Business Management professor at Columbia College Chicago, is asking the public to help fund the Evolve Planner project.
Why: In her experience with teaching students, de Fraga noticed how many of them have huge goals but also struggle with managing time and finances to make those dreams reality. She wants more people to have ability to use money as a tool to achieve their ambitions.
She created The Evolve Planner. The goal of this planner, a hard cover smyth sewn book, is to help people organize their lives, make smart money decisions, observe progress and have the funds to make projects into reality. De Fraga is using this Kickstarter campaign to teach people personal financial responsibility, a valuable skill to have at any stage of life.
The Evolve Planner is organized into yearly, monthly and weekly layouts. The yearly pages allow users to visualize their whole year. The monthly pages include a simple budget layout and calendar. This allows people to quickly and easily figure out the funds they have available for their spending plans and gives them a heads up on future events. The weekly pages lets people devise their to-do lists, schedule appointments and keep track of their personal habits.
Where: The Kickstarter campaign began October 27 and lasts for 34 days. The goal is to raise $10,000. Monies raised will cover the production costs of these planners. Incentives include receiving a PDF of undated Evolve Planner Pages ready for people to begin their financial journey and ruby red and black covered Evolve Planners enough for one, two or a team of five.
For information, visit: https://www.kickstarter.com/projects/1500643491/evolve-planner?ref=project_link
About Andrea de Fraga, Creator of the Evolve Planner:
Andrea de Fraga is a Business Management professor at Chicago's Columbia College. Most of her career concentrated in finance for mid-size companies. She was responsible for reaching company goals through careful money management. Building assets and funds were the tools to achieve those objectives. She uses her experience and knowledge in her own financial life and teaches students the basic principles of management. De Fraga is passionate about the idea that once people learn to use money as a tool, they have the freedom to live the life they want. She created The Evolve Planner as an important tool that can help people build habits to achieve their life goals and ultimately have the freedom to live the life they desire.