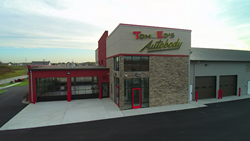 Our growth is thanks to a higher demand in quality that can't be found anywhere else
Merrillville, Indiana (PRWEB) November 13, 2016
While being family owned and operated since 1983, Tom & Ed's Autobody is rapidly expanding. In 2016 it has added 3 locations. They also have rebuilt its Merrillville location while adding a Boat/RV Repair Division.
Burns Harbor, IN - July 1st Tom & Ed's Autobody acquired what was formally Arnell/Bosak Bodyshop in Burns Harbor, IN while retaining existing quality staff.
Valparaiso, IN – As of November 1st, Tom & Ed's Autobody acquired CC Autobody, specializing in RV and Boat Repair and Paint. This will add to Tom & Ed's Autobody's RV & Boat Repair Division, specializing in quality repairs.
Merrillville, IN - Beginning of 2016 Tom & Ed's Autobody began constructing a new 16,000 sq ft facility in Merrillville directly behind its existing location attached to the Bosak Chrysler Dealership which opens December 1st.
Cedar Lake, IN - Also opening in December is their new location in Cedar lake. What was formally "Center Garage/Bobb Auto Group" on 133rd and Route 41 in Cedar Lake, has been completely remodeled and transformed to a collision repair facility where "enterprise rental cars" will also be located in the same building. This will result in a "one stop shop" to make it more convenient for our customers during the repair process.
Three of the new facilities have indoor parking for their customers to drive directly in upon arrival and onsite rental cars. This assists customers so it keeps their customers and their vehicles out of the rain and snow, while their car is inspected in the temperature controlled "Estimating Bay". This is unique to the industry as most facilities have the whole customer experience and estimate writing outdoors.
About Tom & Ed's Autobody
Established in 1983 in Schererville Indiana, Tom & Ed's Autobody has always been family owned and operated focusing on safe quality repairs. Tom & Ed's has always given a "Lifetime Warranty" with all their Repairs. The facilities are currently operated by Tom & Debbie Tylka with their 2 sons Andy and Geoff. All family members currently live in Northwest Indiana while managing the 6 locations and 24 hour Towing Division.
To learn more, please contact:
Andy Tylka
1225 Birch Drive
Schererville, IN 46375
Office: 219-322-5220
Email: atylka(at)tomandeds(dot)com