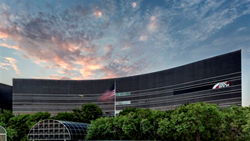 We understand the hurdles and challenges of building and scaling a business because we've been through the pains of that growth ourselves."
Dallas, TX and Houston, TX (PRWEB) November 09, 2016
AcctTwo, a leading consulting firm and provider of cloud-based ERP and BPaaS solutions, announced that the firm has opened an office in Dallas, TX. With a strong presence in the Energy, Software, and Nonprofit sectors, the company has hired a number of employees outside of Houston, where it was founded and is headquartered. Having established a significant customer base in the Metroplex, and a strong focus on nonprofit and faith-based organizations - an industry segment that thrives in the Dallas area - it made sense for the firm to open a physical office there.
AcctTwo is Intacct's overall Business Partner of the Year for the third straight year, and has been named to a variety of top reseller lists as well as the Houston Fast 100 and INC 5000 lists in 2016. The firm sees its growth and the associated challenges of scaling its own business as invaluable experience, and has found that experience to be relatable to the problems faced by its clients and other growing midmarket businesses.
"We're very proud of our accomplishments and excited to be opening an office in the Metroplex," said Marcus Wagner, Founder and CEO of AcctTwo. "But what we're most excited about is the success of our customers. We understand the hurdles and challenges of building and scaling a business - a lack of insight, metrics, and process automation; the challenges of siloed data between departments; and the difficulty of finding and retaining great employees - because we've been through the pains of that growth ourselves."
AcctTwo's future plans include the continued evangelization of the benefits of Intacct and other cloud-based SaaS financial solutions, the expansion of its BPaaS services, the creation of a community for nonprofit support functions to collaborate and share best-practices, the development and extension of solutions on the Intacct platform, and the continued improvement of its already impressive customer satisfaction ratings by ensuring the success of its customers.
About AcctTwo:
AcctTwo is a leading consulting firm and reseller of cloud-based accounting and financial management software. Our sophisticated systems solve the issues growing middle market companies, nonprofits, and churches face today. AcctTwo also provides Business Process as a Service (BPaaS) solutions, allowing clients to focus on the core competencies of their business. We provide the people, processes, technology, and office facilities to perform these functions, while allowing clients to collaborate interactively through an on-line portal.
AcctTwo is headquartered in Houston, Texas. For more information, please visit http://www.accttwo.com or call 713-744-8400.
Contacts:
Peter Wagner
Director of Marketing
AcctTwo
Cell: 512.415.6846
Email: pwagner(at)accttwo.com
Chris Wailes
VP, National Media Relations
Pierpont Communications
Direct: 713.627.2223
Email: cwailes(at)piercom.com