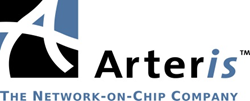 Campbell, Calif (PRWEB) November 08, 2016
Arteris Inc., the innovative supplier of silicon-proven commercial system-on-chip (SoC) interconnect IP, today announced that Antonio J. Viana has joined the Arteris Board of Directors.
"We are honored that Antonio Viana has chosen to join our Board of Directors," said K. Charles Janac, President and CEO of Arteris. "In addition to Antonio's expertise, we are looking forward to his energy, enthusiasm and keen business sense to help us grow Arteris even further."
Antonio Viana has an extensive background in the intellectual property space, in particular, IP commercial operations. In addition to now serving on the Arteris board, Antonio is also chairman of the board for a Swiss/US based IP start-up company specializing in next generation noise reduction and ultra-low power, signal integrity technology. In October of 2015, Antonio retired from the executive team of ARM Holdings after spending 13 years there.
He was most recently ARM's EVP and President of Commercial and Global Development, the most senior commercial executive. Under Antonio's leadership, ARM reached record revenue and booking levels. He was a critical piece to ARM's rise as one of the most successful IP companies in the industry. In addition to his time at ARM, he was previously the Vice President of Sales for Tensilica, now a division of Cadence Design Systems. He also has various sales and operational experience with Hughes Aircraft, Encore Industries, and Silicon Graphics.
"Arteris has the incredible potential to lead the industry in elevating next generation silicon designs and driving new levels of innovation," said Antonio J. Viana. "With every generation of silicon, the on-chip interconnect IP becomes more critical and more important. Arteris has consistently demonstrated the capability to address the needs of the most inventive and demanding design teams. I am excited to join the board and contribute to their growth."
About Arteris
Arteris, Inc. provides system-on-chip (SoC) interconnect IP and tools to accelerate SoC semiconductor assembly for a wide range of applications. Rapid semiconductor designer adoption by customers such as Samsung, Huawei / HiSilicon, Mobileye, Altera, and Texas Instruments has resulted in Arteris being the only semiconductor IP company to be ranked in the Inc. 500 and Deloitte Technology Fast 500 lists in 2012 and 2013. Customer results obtained by using the Arteris product line include lower power, higher performance, more efficient design reuse and faster SoC development, leading to lower development and production costs. More information can be found at http://www.arteris.com. Arteris, FlexNoC and the Arteris logo are trademarks of Arteris.