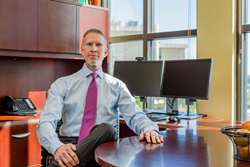 My real goal is to ensure homeowners are equipped with the tools needed to properly defend themselves.
Miami, FL (PRWEB) November 08, 2016
Getting a wealth of information about foreclosure defense, free of charge and courtesy of a reputable attorney — all from the comfort of one's couch — sounds too good to be true. However, that is exactly what Florida foreclosure attorney Dillon Graham is offering with his upcoming event "Ask Graham."
Ask Graham is a live Q&A-style event, where homeowners can pose their most pressing questions about foreclosure in Florida and receive answers in real time. One might ask how it is possible to attend a function from home, or even from work. To that, Graham presents an innovative approach to getting homeowners informed about foreclosure law in Florida. Users can tune in to get the answers they need on Wednesday, November 16 at 12:15 p.m.
"The homeowners who participate will be the ones driving the conversation," Graham said.
Homeowners can expect to get vital information regarding everything from foreclosure alternatives to details about the process and paperwork. According to Graham, this is also information that mortgagers can learn in his free consultations (which he now offers virtually), but this method of educating prospective clients should prove valuable to homeowners as well. He also noted that securing someone as a client ultimately falls secondary to his mission of protecting the rights of homeowners facing foreclosure.
"My real goal is to ensure homeowners are equipped with the tools needed to properly defend themselves," Graham said. "Of course one of those tools is first-rate legal representation, but knowledge is a powerful tool as well."
Providing that necessary knowledge is exactly what Graham says he hopes to accomplish with Ask Graham. Interested homeowners can link to: RSVP to the event via Facebook, and should like the firm's page when tuning in to participate in the live Q&A.
Graham said he hopes Ask Graham inspires others in the legal industry to embrace technology in working with clients.
"Technology provides the opportunity to give our clients even better service, and it's time that we take it," Graham said.
About Graham Legal, P.A.
Graham Legal, P.A. is a consumer oriented law firm that represents individuals against banks, insurance companies, and other wrongdoers. Areas of focus include foreclosure defense and personal injury law. It was founded on the belief that everyone deserves quality legal representation regardless of income, background, or situation. Graham Legal, P.A. seeks to put the power into the hands of people by providing wronged individuals with a fair, affordable chance at justice. For more information, visit: http://grahamlegalpa.com.