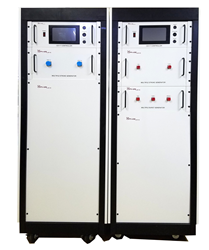 Los Angeles, CA (PRWEB) November 09, 2016
OphirEMC, a new division of OphirRF that specializes in products for making EMC (electromagnetic compatibility) measurements, now proudly carries state-of-the-art Lightning Generators for their customers to meet the stringent Military Standards for Induced Lightning Susceptibility Testing.
OphirEMC already has the impeccable reputation of carrying quality products for their customers including Line Impedance Stabilization Networks (LISN's), Current Probes, Injection Probes, Transient Generators, Transformers, Loops and Coupling/Decoupling Networks (CDN's). By increasing their product line with the Lightning Generators, the company stands alone in the EMC industry. The induced lightning generators are produced by OphirEMC with design input from world renowned EMC testing expert, DNB Engineering, Inc.
To highlight the groundbreaking initiative in carrying the Lightning Generators, OphirEMC, along with DNB Engineering, will be showcasing a seminar regarding Induced Lightning Susceptibility. The event will take place November 17th in Anaheim and Fullerton, California. The full day event will be tightly focused about compliance testing for Indirect Effects Lightning; enabling companies to test to meet the requirements for MIL-STD-461G CS117. Additional information and specifications about the induced lightning generators will also be discussed at the seminar. The cost to attend the exclusive event is $99 until November 14th. After that date, the price will be $119.
For more information about the seminar or to register, please call 1-844-EMC-minj or visit http://www.emcmini.us.
To find more information about OphirEMC and their extensive product line, please call 310-306-5556 or visit http://ophirrf.com
To find more about DNB Engineering and their testing and engineering services, please call 714-870-7781 or visit http://www.dnbenginc.com.
About OphirRF and OphirEMC
Since 1992, OphirRF has been designing and manufacturing high power RF systems for use in compliance testing, communications, electronic warfare, and radar. OphirRF, long known for manufacturing top quality, high power, solid state, broadband and band-specific RF amplifiers for over 20 years has expanded its product line with the creation of its newest division, OphirEMC. OphirEMC specializes in products for making EMI/EMC measurements.
About DNB Engineering, Inc.
DNB Engineering, Inc. a full-service test lab that has been family-owned and operated since 1979. They provide Electromagnetic Compatibility (EMC), Lightning, High Intensity Radiated Fields (HIRF), Environmental, Product Safety and Regulatory Test capabilities. With four locations in California, one in Utah and another in Arizona, DNB Engineering has the facilities, certifications and the experienced personnel to meet all testing, qualification, and regulatory compliance specifications. DNB Engineering provides an excellent facility, highly trained and experienced personnel at competitive prices. The company's goal is to provide a facility for companies where they will be able to obtain a qualified unbiased third party product evaluation.