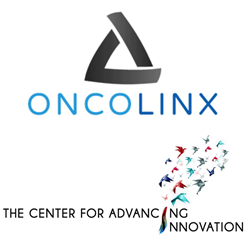 Oncolinx is a shining example of what can be achieved through the CAI program. With its fourth competition now concluded, CAI's challenge model has shown success in building extraordinary startups to leverage high-growth federal technologies.
Bethesda, MD (PRWEB) November 15, 2016
A spin-out company from the Center for Advancing Innovation (CAI), Oncolinx, has won the 43North Startup Competition. This premier international startup competition, sponsored by the New York Power Authority and Governor Andrew Cuomo's Buffalo Billion, awarded Oncolinx the grand prize of $1 million. Oncolinx outcompeted 541 other companies, including 142 semifinalists and sixteen finalists. Along with its grand prize, 43North will grant Oncolinx free incubator space in Buffalo, New York, marketing exposure, mentorship from experienced entrepreneurs, and ten years of freedom from New York state taxes. This recognition comes only a little more than two years after Oncolinx launched from CAI's inaugural entrepreneurship competition, the Breast Cancer Startup Challenge, a partnership with the Avon Foundation for Women and the National Cancer Institute (NCI), part of the National Institutes of Health (NIH).
Since winning the Breast Cancer Startup Challenge (BCSC) in March of 2014, Oncolinx has achieved remarkable success. Through the BCSC, Oncolinx won the opportunity to execute an exclusive license, granted by the NIH in 2015, to an innovative, commercially viable NCI invention. This promising cancer immunotherapy is an antibody-drug conjugate (ADC), in which a biologically active drug, called Azonafide, is attached to a monoclonal antibody with the ability to specifically target malignant cancer cells. Due to this selective targeting of cancer cells, Oncolinx's innovation can avoid the adverse side-effects of traditional chemotherapy, which also destroys healthy cells. At present, Oncolinx has signed eighteen partnership agreements with universities and pharmaceutical companies, such as Celgene, Merck, and Novartis. These partnerships have given Oncolinx access to an arsenal of different monoclonal antibodies, which Oncolinx will employ to fight as many as thirty different cancer indications. Oncolinx expects to begin first-in-human trials on a partnered drug in 2017.
"Oncolinx was fortunate to get its start in the Breast Cancer Startup Challenge. Since then, Rosemarie Truman, her team, Dr. Nadya Tarasova, and the NCI have given us unparalleled support as we developed their drug and accelerate it towards clinical trials. We look forward to continuing to draw on the NCI and CAI as great resources as we move forward," said Sourav Sinha, CEO of Oncolinx.
On Buffalo's biggest stage, Oncolinx's co-founders pitched to nearly three thousand audience members, including renowned investors from across North America, New York Lieutenant Governor – Kathy Hochul, New York Power Authority Chairman – John Koelmel, and American broadcast news correspondent – Luke Russert. Yet, Oncolinx's co-founders are accustomed to the spotlight. Prior to receiving the 43North grand prize, Oncolinx had participated in and won other prestigious startup competitions, including MassChallenge, MassBio, and the Rice Business Plan Competition. Moreover, Oncolinx was awarded incubator space from Mass Innovation Labs and the Texas Medical Center's TMCx accelerator. By the end of 2016, Oncolinx plans to carry out experiments onboard the International Space Station in the ISS National Laboratory, managed by NASA and CASIS.
One of 58 spin-outs, Oncolinx is a portfolio company of the Center for Advancing Innovation's challenge-accelerator program, a first of a kind national startup competition designed to identify and accelerate the market potential of nascent federal technologies. To date, CAI has partnered with the NIH and NASA in order to commercialize their portfolio of over 25,000 breakthrough inventions through this award-winning challenge-accelerator model. Other CAI portfolio companies include Angio360, a diagnostics company for the early detection of cancer in humans and dogs, and NeuroCognetix, a third-party solutions provider for the Magnetic Resonance Imaging (MRI) industry. Both startups, launched from CAI's Neuro Startup Challenge in 2015. Like Oncolinx, each of these game-changing companies is prepared to make a positive impact on the world, using one of over 150,000 federally funded inventions from the top 150 United States research institutions.
Rosemarie Truman, Founder of CAI, said, "Oncolinx is a shining example of what can be achieved through the CAI program. With our fourth challenge now concluded, CAI's challenge model has shown success in building extraordinary startups to leverage high-growth federal technologies. If we can continue to cultivate and commercialize even a fraction of the vast portfolio of 150,000 federally-funded inventions, we can create unprecedented impact to the US economy."
ABOUT CAI:
The Center for Advancing Innovation (CAI) is a global public-private partnership, non-profit focused on creating a virtuous circle of innovation and driving growth breakthroughs through novel, creative paradigms and models. CAI's mission is to accelerate and increase the volume of research commercialization in support of high growth business to ignite entrepreneurship, bolster the global economy, and maximize the commercial and knowledge-based potential of promising inventions. CAI's award-winning challenge-based accelerator, rigorous evidence-based due diligence, and capital-efficient lean management models serve to hyper-accelerate "gazelle" high-performing startups for outsized investor returns. Through its NIH-sponsored Breast Cancer Startup Challenge, Neuro Startup Challenge, and Nanotechnology Startup Challenge in Cancer competitions, as well as its NASA-sponsored Space Race, CAI has launched 58 startups and trained more than 2000 entrepreneurs. For additional information about CAI, please visit http://www.thecenterforadvancinginnovation.org.