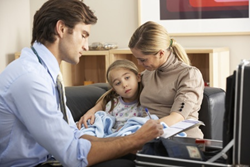 We think of this business concept as a marriage of Uber© and Amazon - Dr. Venkatraman Sadanand Chairman and CEO
Los Angeles, California (PRWEB) November 10, 2016
New startup HouseCallsNow Inc. delivers services directly to your home using a secure mobile App. Services include healthcare, homecare, personal care and pet care. Service providers can now be summoned with a simple tap of an app. A mother can now have a physician come to her home at 2:00 AM when her child is crying and has a fever without the need to run to an ER while scrambling to find a sitter for her other children. This caricature video explains the concept.
"We are excited to launch the website and apps," said HousecallsNow cofounder and CEO Dr. Venkatraman Sadanand, a Neurosurgeon. "HousecallsNow will make life more convenient for customers and expand markets for providers. We think of this business concept as a marriage of Uber© and Amazon© as suggested in a compelling article published in the New England Journal of Medicine"
In 2015, eCommerce amounted to nearly $ 1.6 Trillion and is expected to grow to $ 3.5 Trillion in 2019. Leveraging eCommerce with a tap of an app, the HouseCallsNow service providers will arrive at your home to provide services.
Services are provided under four categories dubbed HELP: H: Health (doctors, nurses, physiotherapists, pharmacists, speech therapists, occupational therapists), E: Education (tutors, trainers, instructors), L: Living (carpenters, builders, landscapers, plumbers), P: Pets (veterinarians, pet groomers, pet walkers). Choose from this expanding list of providers. Then sit back, relax and track the provider coming to your house in real-time to deliver the service at the comfort of your home.
The biggest impact of this venture will be in healthcare. Doctors providing house calls directly to patients using the HouseCallsNow app will be an industry first. Over 70 million patients do not have a primary care doctor. Those that do, wait to see their doctor an average of 31 days. ER wait times are unacceptably high sometimes resulting in wait times of 4-8 hours. There are documented scenarios of worsening disease or death to patients as a result of this. In addition, of the patients who come to the ER and wait for long hours, the majority are discharged while the minority are admitted. Hence resources intended to help those critically ill requiring admission, are employed serving those patients that will be discharged.
Cofounder and Director Dr. Mohan Ananda is a primary architect of the GPS (Global Positioning Satellite) system for the U.S. Department of Defense. He is also a successful entrepreneur who helped build stamps.com and Envestnet into highly profitable publicly traded companies and is currently both an attorney and the CEO of secondopinionexpert.com. "In this day and age of eCommerce, electronic communication and tight budgets, markets can be made more efficient by the use of evolving technologies," says Dr. Ananda. "As we know, healthcare delayed is healthcare denied. Now patients can get healthcare at the right time in the convenience of their homes. When eCommerce redefined the delivery of goods, why can the same technologies not redefine the delivery of services? That is exactly what we are doing."
All providers are background checked for criminal records, employment history, training, certifications and terrorism check. For the safety of providers, there is an SOS button in the app. Pressing this will send out predetermined text messages and live GPS location data to designated recipients. Financial transactions are handled securely through PayPal©. All non-healthcare providers as well as clients are rated and reviewed after verified completion of transaction.
When you need it, HouseCallsNow will bring service providers directly to your home with safety, reliability and efficiency.
Additional information is available at https://www.housecallsnow.com