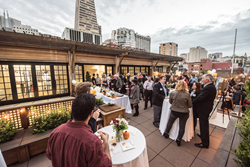 SAn Francisco, Calif. (PRWEB) November 08, 2016
UGallery.com, the world's leading curated online art gallery, is celebrating its 10th anniversary. The milestone marks a decade of reinventing the way buyers shop for original artwork. Since its founding, UGallery has transformed the traditional art gallery into an accessible online experience by connecting buyers with one-of-a-kind artworks at price points lower than typically seen at brick-and-mortar galleries.
With roots as a business school project at the University of Arizona, UGallery initially made its name as a popular online outlet for student artists to sell their work. The concept quickly gained traction. Now, the online gallery has evolved to represent 500 emerging and mid-career artists from around the world.
"In the past, art was a black box – brick-and-mortar galleries were intimidating and there was little price transparency," said co-founder and CEO Stephen Tanenbaum. "We launched UGallery with a mission to flip the art industry on its head and make original art accessible to everyone."
UGallery operates much like a local gallery – with curator approval and detailed descriptions for each artwork, individual relationships with artists, and free shipping & returns – but at a much larger scale. The company's personal and service-oriented approach to ecommerce is unusual for the art world and has allowed UGallery to flourish, with sales outpacing the industry at 40% growth YoY the last three years.
"We strive to be the premier online gallery," said co-founder and Gallery Director Alex Farkas. "We focus a lot of energy on finding the most talented artists and connecting them with enthusiastic art buyers. Our mission is to develop lifelong relationships."
By connecting artists and collectors on a global scale, UGallery leads the way for people to consume and engage with one-of-a-kind art in today's modern age.
Last Tuesday, UGallery held a 10th anniversary party on the rooftop terrace of their new Jackson Square office in San Francisco. Along with toasting to a decade in business, UGallery also celebrated a new round of growth funding from Trailhead Ventures.