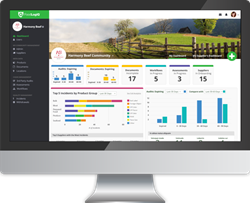 Durham, NC (PRWEB) November 08, 2016
FoodLogiQ, LLC, and WQS Food Verification, LLC, today announced a partnership to pair industry-leading auditing services with a fully mobile, Cloud-based supplier management and traceability platform. The new partnership will help food companies respond to the onslaught of auditing and certifications being driven by increased regulatory and industry standards.
WQS will leverage FoodLogiQ's Cloud-based platform FoodLogiQ Connect to schedule, track, perform and review the more than 20,000 inspections they conduct annually around the world. Within FoodLogiQ's Manage+Monitor module food companies, working with WQS to conduct their auditing services, will be able to track the progress of their facility audits and certifications online in real time and review the certification process of their suppliers - as well as their supplier's suppliers.
"It really is an amazing tool that will allow us to capture audits on a mobile device in the field, sync them with our customer's FoodLogiQ Connect community and give our customers complete visibility into the status of the audits, and certification process we are conducting for them," said Matt Regusci, WQS COO and Director of Business Development. "We're excited to be working with FoodLogiQ to make the chaotic global supply chain more organized and transparent."
WQS offers auditing services to cover all of the major government and industry accreditation's including GLOBALG.A.P., BRC, IFS, SQF and PrimusGFS, among others as well as corporate food safety standards managed by major retailers and restaurants.
FoodLogiQ customers will now be able to seamlessly partner with a leading food compliance firm with a global reach. "This partnership rounds out the value-added services we can offer our customers," said Dean Wiltse, CEO of FoodLogiQ. "We are thrilled to work with WQS as an industry leader in global food quality and safety certifications."
For more information or to schedule a demo, please visit http://www.foodlogiq.com/wqs
About WQS
With offices in the United States, Brazil, Mexico, Chile, and Peru, WQS is one of the largest privately held agricultural food compliance companies in the western hemisphere. WQS currently performs over 20,000 inspections and over 4,000 GFSI audits annually. The clientele of WQS include large industrial farmers, producers, packers major food processors, down to very small family operations. The food supply chain is extremely diverse, and as global populations grow in numbers and prosperity so does the complexity of the food supply chain WQS, and their partners, assist in making the supply chain transparent and compliant.
About FoodLogiQ
FoodLogiQ® LLC is a leading SaaS provider of food safety compliance, traceability, and supply chain transparency software solutions. We help restaurant operators, food retailers and other food companies achieve end-to-end traceability while supporting safe and high quality food products across the supply chain. FoodLogiQ Connect is an online supplier community used by food companies to manage quality, safety, audit, regulatory compliance and traceability needs across their supply chains. To meet mounting regulatory requirements and consumer demands for transparency, food companies are leveraging FoodLogiQ Connect to validate supplier compliance with food safety and act with confidence in the event of a food safety or quality issue. To request a demo, please visit http://www.FoodLogiQ.com/demo.