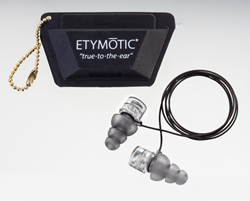 Etymotic high fidelity earplugs allow natural hearing when sound levels are safe, but automatically provide protection from loud, sustained music and loud percussive sounds.
Elk Grove Village, IL (PRWEB) November 08, 2016
Drummers have long known that protecting their hearing should be a priority, but industrial-style earmuffs and earplugs muffle sound by reducing high frequency sounds more than low frequency sounds. Drummers sometimes report wrist damage from wearing foam earplugs and trying to hear a normal rim-shot sound. Rather than compromise on sound quality, many drummers play without hearing protection—and risk hearing damage in the process. Enter high-fidelity earplugs.
Etymotic Research, innovators in hearing wellness solutions, pioneered high-fidelity earplugs over 25 years ago, and have been marketing them to musicians ever since. "Music educators are now leading the charge for hearing protection," said Etymotic's Global Sales Operations Manager Charlene Clements. "Teachers learn about hearing health as part of their training, and they're adopting hearing protection for themselves and recommending it for their students as essential equipment once they begin their careers."
Etymotic will bring its latest hearing health products to the 2016 Percussive Arts Society International Convention (PASIC) this week at the Indiana Convention Center in Indianapolis, IN. Attending percussionists and their teachers can visit Etymotic in PASIC's exhibit hall (Booth #101) to learn about and purchase Etymotic's hearing protection products. Two new noise-isolating ER-4 earphone models will also be on display and available for trial.
The company's reusable ER•20®XS high fidelity earplugs and an ER•20®XS "Universal Fit" package will be of particular interest. The performance of the lower-profile ER•20®XS earplugs matches Etymotic's original ETY•Plugs® High Fidelity Earplugs, offering unsurpassed clarity with a 20-dB sound reduction. With either earplug model, the richness of music is preserved and speech remains clear, just quieter. The ER•20®XS earplugs have a lower profile to fit under hats and other headgear; and ear tips are interchangeable and replaceable.
Etymotic's Music•PRO® electronic earplugs will also be on display at PASIC and be of special interest to attending music educators. The Music•PRO earplugs provide two modes of protection in the same device, providing either 9-dB or 15-dB adaptive attenuation. Most importantly, these high fidelity earplugs allow natural hearing when sound levels are safe, but automatically provide protection from loud, sustained music and loud percussive sounds. Electronic earplugs are ideal for directors and musicians, front-of-house personnel, entertainment industry support staff, security personnel and audiences who want to protect their hearing but also communicate easily with those around them.
About Etymotic
Etymotic is a research, development and manufacturing company that designs high-fidelity personal audio products and hearing wellness solutions to assess enhance and protect hearing. For over 30 years, innovation and education have been central to Etymotic's mission. Etymotic is one of the most respected leaders in high-fidelity audio and hearing conservation. For more information about Etymotic, its hearing wellness mission and its products, please visit http://www.etymotic.com.