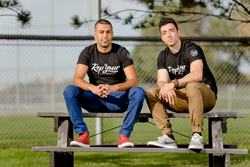 Toronto, Ontario (PRWEB) November 09, 2016
They say that each day is an opportunity to chase – and enjoy – what sets your soul on fire. Threads of Dreams is a streetwear brand that was created to emphasize this passionate outlook about life. It is our belief that hope and dreams are the secret of not only daily satisfaction in life but, ultimately, the fuel that fires the fulfillment of one's deepest aspirations. Each thread – positive thought or action – taken in the earnest pursuit of one's dreams builds an individual's ladder of personal success.
Threads of Dreams is a brand whose goal is to propel all dreamers to "Tread With Threads," – to wear and use our custom designs to visibly motivate themselves and others to forget fear and grow faith in their unique vision and abilities, for this is the proven path to happiness.
With each sale, a portion will be donated to Dress For Success, a global organization with a mission to help underprivileged women attain the skills and attire required to obtain the career of their dreams. The mission is to help everyone create and intertwine the threads of their dreams to generate their best possible lives.
"It's really all about helping people find happiness and allowing them to represent their true colours to the world. Life sets far too many limits on what we can realistically achieve, but many individuals have proven that making a dream come true is all about one's passion and drive. If we can provide light and hope to those struggling with uncertainty and darkness, then we've succeeded in what's important to our company." Andrew Derayeh – President
It's a simple yet powerful theory; weaving visions together all begins with threads of dreams.