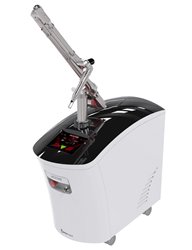 Seoul, Korea (PRWEB) November 10, 2016
WONTECH Co., Ltd., a leader in aesthetic laser and energy-based medical devices, today announced that it has received European Medical Devices Directive (MDD) certification from its European notified body for PICOCARE™. The certification allows WONTECH to place the "CE" Mark on PICOCARE for distribution in the European Union and its member states.
CE MDD is an essential certification to distribute and sell medical devices in Europe and can only be certified it must meet the safety, quality, performance and durability requirements of the medical device. Therefore, it is known that only a small number of companies worldwide have CE MDD with the picosecond lasers.
PICOCARE is able to remove various tattoos with a small number of multi-wavelengths such as 1064nm, 532nm, 595nm, and 660nm, and is known to be effective in laser toning, flushing treatment and skin rejuvenation. In particular, it is possible to remove tattoos of various colors as well as black, and it has the advantage of minimizing the damage of skin tissue by selectively removing pigment particles, the manufacturer said.
Jong Won Kim, Chairman and CEO of WONTECH commented "WONTECH's flagship product, PICOCARE's CE MDD certification, has officially recognized WONTECH's outstanding laser technology and safety in the global market. This certification not only enabled us to sell in Europe, but also in countries in the Middle East and Southeast Asia countries that require CE MDD."
Separately, WONTECH said that on December 31, PICOCARE 450 received a license to manufacture medical devices from Korea's Ministry of Food and Drug Safety (MFDS) for 450 picosecond medical laser for the first time among the Korean manufacturers. Recently, WONTECH's picosecond laser business is expected to gain more momentum, gaining approval from both domestic and overseas markets.
Jung Hyun Kim, CEO of WONTECH commented "After unveiling the PICOCARE machine, we received many inquiries about the certification schedule in the areas that requiring CE. Fortunately, we received CE certification on time, and I am very pleased to be able to satisfy them. PICOCARE is a flagship product that WONTECH had been developed ambitiously, so we will lead the picosecond laser market with aggressive marketing."
About WONTECH
WONTECH Co., Ltd. was established in 1998 and has grown into a specialized company in the field of laser skin care, medical equipment such as laser, ultrasound, and RF based on its technological expertise in laser medical equipment, and is now the representative company of skin beauty medical equipment listed on KONEX, Korean stock market. It has a rich product lineup of the highest level in the industry with 50 products. In recent years, it has been working on B2C business such as Hair Beam of hair loss treatment device, Hifie of personal skin care device, and surgical field for neurosurgical (spine). It is a global leader that exports its products to more than 50 countries around the world, based on accumulated technology to hold about 170 intellectual property rights.
For more information about WONTECH and its products, please visit: http://www.wtlaser.com.
Media Enquiries:
WONTECH Marketing Team
Tel. +82-70-7836-6981
Email: wtshim(at)wtlaser.com