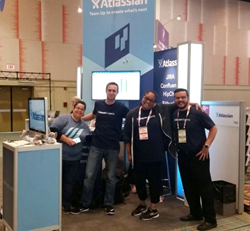 Enterprise organizations will find themselves working far more efficiently when they are able to keep technology simple.
Southampton, UK (PRWEB UK) 9 November 2016
The Gartner Symposium/ITxpo conferences, held annually in Florida and Barcelona, are two major highlights of the technology calendar. An authority in the IT industry, Gartner brings together CIOs and senior IT executives to address the unique goals and challenges they face in aligning business priorities and IT strategy for the digital future.
Clearvision was one of two global partners selected by Atlassian to join them at this year's Gartner Symposium in Orlando, Florida, and Barcelona, Spain, gaining a firsthand insight into these digital transformation challenges. In discussion it emerged that many attendees were struggling with multiple software systems, leading to convoluted or inconsistent practices in collaboration and project management. Clearvision is a US and UK based IT consultancy specialising in helping large globally distributed enterprises to optimize their software development and general business processes using Atlassian's industry leading products.
Clearvision's technical sales representatives spoke to hundreds of delegates, frequently covering the issue of consolidation of tools and processes.
"Enterprise organizations will find themselves working far more efficiently when they are able to keep technology simple," said Clearvision CEO, Gerry Tombs, at Gartner's Orlando exhibition. "The talks we've heard from digital thought leaders this week speak about the need for simplicity and flexibility, to be able to use technology efficiently and innovate in an agile way."
According to Clearvision's Head of the Americas, Michelle Westich, who also attended the Gartner Symposium/ITxpo, many organizations purchase software licenses but are only using them at 40-50% capacity. Says Westich, "Many of these enterprises we are speaking to here are fully on board with the agile way, but feel the risks of having too many different tools to do the job. For us, operational excellence comes from visibility, consistency, and continuous improvement, and that's what we're able to deliver into the enterprise with Atlassian's integrated and extremely versatile toolset."
Clearvision has worked with enterprises across the globe to help raise operational efficiency and team collaboration. The Atlassian tools are user friendly, scalable, and can easily be integrated into existing ecosystems, bringing collaboration and visible, end to end project management to the enterprise. As a Platinum Atlassian Expert, Clearvision provides training, configuration, migrations and support for the full set of these tools, including JIRA Service Desk, Portfolio for JIRA, and high availability Data Center deployments of core systems including JIRA and Bitbucket.
For more information on Clearvision's enterprise services, visit: https://www.clearvision-cm.com/
Alternatively contact enquiries(at)clearvision-cm(dot)com to discuss your requirements.