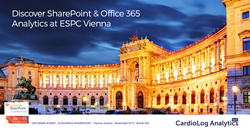 SaaS and On-Prem Analytics for SharePoint & Office 365
Boston, MA (PRWEB) November 08, 2016
The CardioLog Analytics team will be exhibiting in Vienna for this year's edition of the European SharePoint Conference. The team will be exhibiting at the Austria Centre Vienna from the 15th to the 17th of November. They will join some of the leading SharePoint and Office 365 leaders from around the world at the event focused on SharePoint, Office 365 and more.
CardioLog Analytics wil be set up and exhibiting at booth #51, showcasing CardioLog Analytics SaaS, On-Premises, Insights and a new engagement package, Engage. These products can be used to track SharePoint versions spanning from 07-2016, as well as SharePoint Online/Office 365. The team will be raffling off a GoPro during the event, in addition to giving away many fun prizes.
Interested in meeting at ESPC in Vienna? Simply reach out to info(at)intlock.com to schedule a meeting with our team.
About CardioLog Analyics:
CardioLog Analytics has been a leader in the field of SharePoint analytics since 2005. CardioLog Analytics is a premier solution specifically designed for SharePoint, and the only on premise SharePoint Analytics solution for enterprises and governments. CardioLog Analytics enables organizations to improve intranet usability, drive portal collaboration, boost user engagement, and enhance overall business productivity. The solution is available as an On-Premises or SaaS solution based on Power BI, with the ability to track SharePoint Online (Office 365), SharePoint 2016, 2013, 2010, 2007, Yammer and Sitrion. The solution can also accommodate Microsoft Dynamics CRM, SalesForce, and other third party platforms.