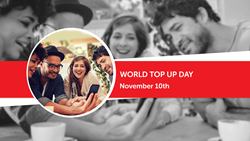 Great, fast, easy, safe. It does what is says. (Jim Schmidt on Trustpilot.com)
Atlanta, Georgia (PRWEB) November 09, 2016
MobileRecharge.com, the global provider of international mobile top ups for expats, invites everyone to celebrate top up givers worldwide on World Top Up Day, November 10, 2016. Everyone who makes an online top up that day, will pay no processing fee. This is the second time World Top Up Day is celebrated globally and the second time no fees apply on: https://mobilerecharge.com/
The event is now listed in Wikipedia as a day that celebrates unconditional giving and kindness through the power of example of top up givers. All the visitors of the website benefit of the MobileRecharge.com support on November 10, 2016. The brand is the first who celebrated expats as top up givers, and the first provider to drop the processing fees in order to facilitate mobile credit transfers.
It takes few seconds to top up a mobile online, no matter the distance, and pay no processing fee on November 10. The service has been simplified and optimised per customer feedback. Most of the customers and fans of MobileRecharge.com are expats who have tried other similar services before settling to the one that they found most transparent, fast and safe, MobileRecharge.com, as they write on review platforms like Trustpilot.com.
The theme and motto of World Top Up Day this year is "Kindness is viral. Pass it on!" It is an observation that turned into a touchy video created to spread the message among expats and other categories that prove generosity or have a great potential. The video can be watched on YouTube: http://www.youtube.com/c/MobileRecharge
World Top Up Day is dedicated to top up givers who support their families in their motherland. The event has been created in 2015 and this is the second time the day is celebrated globally, no matter the country, or ethnic group. And this year too, MobileRecharge.com drops the processing fee to facilitate online top ups on the website.
Expats make 90% of MobileRecharge.com customers and fans. World Top Up day is MobileRecharge.com's way to express admiration for the social category they serve: expats. Their power of example will be the focus of all articles and social media events before and on November 10.
On November 10, 2016, besides the standard Promotions and Bonuses, no fees will apply for those having a free account on MobileRecharge.com. For those new to the service, an account takes seconds to open and is 100% free.
To stay updated to the big offer on World Top Up Day, expats are encouraged to follow the Facebook community or visit the website on November 10, 2016: https://www.facebook.com/MobileRecharge.Fan/
A free account on MobileRecharge.com comes with a range of advantages:
-No contract between the provider and the sender.
-MobileRecharge.com is mobile-friendly.
-The account costs nothing and is available in several languages including Spanish and English.
-All transactions are available in one's account at any time.
-MobileRecharge app is free to instal on Android and iOS devices.
-"Promotions" tab in the website menu centralizes all daily deals on MobileRecharge.com. They are also published on MobileRecharge app and advertised in the Facebook community.
-Users get major offers by email if they press the "Get offers" button on the homepage.
-Payment is welcome in any currency, and Paypal is accepted besides all major cards.
-Safety of transaction is guaranteed by the certifications on the website: "Verified & certified", Trustee, etc.
-MobileRecharge.com is present on Facebook, G+ and Twitter for customer support, service updates, contests and promotions.
-Customer Service is known as highly supportive; it is available 24/7 in both Spanish and English, and other international languages.
-Video tutorials are available on YouTube and in one's account to help anyone find it easy to send mobile credit abroad.
MobileRecharge.com has been built per expats' feedback, as the most time-saving and economical alternative to offline mobile credit top ups.
MobileRecharge.com is a website dedicated to expats worldwide, travellers or professionals who live abroad temporarily. MobileRecharge.com has celebrated for the first time in history World Top Up Day, dedicated to top up givers worldwide as a generous social category. The website is a brand of KeepCalling, with more than 10 year experience on the global market. The mother company is a telecommunications business registered in 2002 in the USA, listed by Inc 5000 as one of the fastest growing companies in the USA for 5 consecutive years. Presently, KeepCalling provides its services to hundreds of thousands of consumers and businesses, with a focus on customer satisfaction. In 2015 the company registered a revenue increase of over 200% from 2011 to 2014.