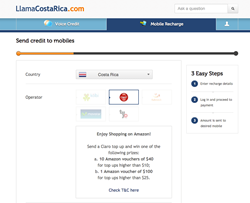 Thanks! I will continue to use LlamaCostaRica for my mobile recharges. Very happy with your service! (Jack Crook, customer)
Atlanta, Georgia (PRWEB) November 09, 2016
LlamaCostaRica.com offers on a monthly basis 11 Amazon vouchers of $40 or $100 to 11 Costa Ricans who make international mobile top ups from the USA to Claro Costa Rica on the website. Expats who make such top ups until April 30, 2017, enter automatically the raffle for one of these Amazon vouchers. The promotion addresses Costa Ricans living in the USA and their families and friends in Costa Rica, who are the direct beneficiaries. The offer is available until the end of April, 2017, for mobile top ups of minimum $10 on LlamaCostaRica.com: https://llamacostarica.com/buy/mobile_recharge
The chance to win an Amazon voucher of $40 or $100 requires a customer to top up a Claro mobile in Costa Rica from the USA until April 30, 2017 on LlamaCostaRica.com. Each month, the website will single out 11 people randomly. Prizes vary according to the amount recharged on LlamaCostaRica.com:
-10 Amazon vouchers of $40 each will be offered for top ups higher than $10;
-1 Amazon voucher of $100 will be offered for top ups higher than $25.
Anyone living in the USA can benefit of this promotion. The only condition is to have a free account on LlamaCostaRica.com and send a minimum of $10 as mobile credit to a Claro mobile in Costa Rica. It takes seconds to open an account and few more seconds to send the Claro credit, as existing customers point out on review platforms.
For Costa Ricans in the USA, who send Claro credit to mobiles in Costa Rica, this is a win-win situation. Besides the $10 minimum credit they send to Claro mobiles, they get something themselves: one of the $40 worth Amazon vouchers or the unique $100 voucher. The current promotion is available with the service called Mobile Recharge on LlamaCostaRica.com.
The winner will be singled out randomly among those who send Claro credit of minimum $10 on LlamaCostaRica.com to someone in Costa Rica, until April 30, 2017. The winners will be contacted by phone in maximum 48 hours. The voucher will be sent by email in maximum 7 business days.
There are also backup winners besides the 11 winners each month. If the winner can not be contacted during the mentioned time, the prize will be offered to the backup winner.
A customer can have multiple entries, yet a participant can only win once during the campaign. The Amazon vouchers cannot be exchanged to cash or other prizes. More details are available on LlamaCostaRica.com.
Besides this promotion, offers run monthly on LlamaCostaRica.com for Claro, as well as for top ups to the other phone providers in the country: Kolbi, FullMovil, Movistar and Tuyo. The online top up process takes less than 1 minute and the credit gets to the destination instantly. Plus, it saves a lot of time and hassle to top up online on LlamaCostaRica.com.
LlamaCostaRica.com offers a full expat service. Besides the online Mobile Recharge service, it also facilitates international calls to Costa Rica through the Voice Credit service. There are at least 3 big advantages about this service, that makes LlamaCostaRica.com stand out on the global market:
-Balance never expires.
-The lowest price to call Costa Rica is 1.2 cents/minute. In other words, one can get up to 526 minutes for a $10 Voice Credit purchase.
-Voice Credit balance can be used to make calls to other destinations in the world.
Thank You points are offered on any regular purchase on LlamaCostaRica.com, outside the promotional period. Once these points reach 1000, they can be converted into $10 Voice Credit for free calls to Costa Rica and other parts of the world.
LlamaCostaRica.com makes available 3 ways to call for each customer:
-From any phone to any phone, through the use of access numbers;
-From one's laptop or computer, through the Web Call application;
-Using KeepCalling app on any smartphone or device using Android or iOS..
LlamaCostaRica.com is a website dedicated to the Costa Rican diaspora worldwide. The website is a brand of KeepCalling, a global telecommunications company registered in 2002 in the USA. Presently, KeepCalling provides its services to hundreds of thousands of consumers and businesses, with a focus on customer satisfaction. KeepCalling has been listed by Inc 5000 as one of the fastest growing companies in the USA for 5 consecutive years. In 2015 the company registered a revenue increase of over 200% from 2011 to 2014.