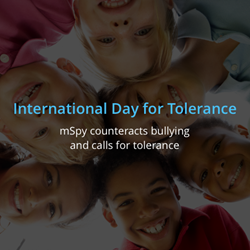 (PRWEB) November 16, 2016
In 1996, the UN General Assembly (by resolution 51/95) invited UN Member States to observe the International Day for Tolerance on November 16. This action followed up on the United Nations Year for Tolerance 1995, proclaimed by the UN General Assembly in 1993 at the initiative of UNESCO, as outlined in the Declaration of Principles on Tolerance and Follow-up Plan of Action for the Year.
mSpy monitoring application has been well-known for its constant struggle against bullying and other manifestations of intolerance across the Globe. In 2016 mSpy joins the celebration of International Day for Tolerance and offers a special deal for customers. Buying a 12 month PREMIUM mSpy account mSpy customers receive a special 16,67$ monthly price, which is almost two times cheaper than even usual BASIC monthly fee (29.99$).
Today mSpy is an international brand that secures children and provides the highest level of monitoring comfort. mSpy software is marketed at parents as a way to monitor smartphone, tablet and computer activity of children. mSpy is not just a single Android or iOS app, yet, an ecosystem including desktop monitoring software and a web-based dashboard.
mSpy now is one of the key instruments to safeguard modern children online. It is one of the best ways nowadays to really acknowledge any child's interests and concerns. With the GPS tracking, parents can know if their children are in the wrong or dangerous neighborhood; with the messaging records, including texts, emails and most messengers - the cyber-bullying problem can be prevented. With the web browsing history reports, concerned parents can make sure that children are not spending time on pornography or gambling websites.
Today mSpy remains the global leader in parental control monitoring dedicated to satisfying parent needs for the security, safety and convenience of their children. The app consolidates the most recent innovations in mobile monitoring to provide parents with solutions they can rely on.
About mSpy
mSpy specializes in customized and user-friendly mobile & computer monitoring solutions, by utilizing the latest innovations in monitoring technologies. mSpy's goal is to deliver the fastest and most secure solutions that suit most demanding parental needs and bring guaranteed results at an affordable price.