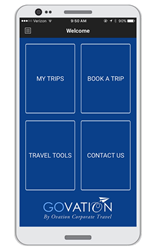 "GOvation gives clients the flexibility to manage and book their trips anywhere, anytime, and, when they want to speak with a human, to connect with us directly from within the app," said Michael Steiner, Executive Vice President, Ovation Corporate Travel
New York, NY (PRWEB) November 14, 2016
Ovation Corporate Travel, the 5th largest travel management company (TMC) by sales volume in the country according to Business Travel News 2016, today announced the release of the GOvation mobile app, a customizable, proprietary mobile application which provides proactive itinerary and travel planning support for Ovation travelers while on the road.
"GOvation is custom-developed to fit seamlessly into Ovation's complete travel technology suite, OTech, which offers innovative products to meet the needs of our travelers" said Michael Steiner, Executive Vice President, Ovation Corporate Travel. "GOvation gives clients the flexibility to manage and book their trips anywhere, anytime, and, when they want to speak with a human, to connect with us directly from within the app. These features work together to make this app an essential tool for the future of travel."
In addition to allowing travelers to view all of their trip itineraries with flight, hotel, car rental and car service, the GOvation app offers an array of travel tools which allow travelers to book trips; receive real-time flight and boarding notifications; check-in for flights; sync to their calendar; share trips with family, friends and colleagues; access client-specific travel policy guidelines and more.
Travelers can easily book trips on their smartphone or can click to contact their Ovation travel consultant 24/7. GOvation is available in the Apple and Android app store as a free download for clients of Ovation Corporate Travel. For more details on the unique benefits of GOvation, please visit: http://www.ovationtravel.com/govation-mobile.
About Ovation Corporate Travel
Ovation Corporate Travel is a $1 billion travel management company in conjunction with its sister companies Lawyers Travel and Ovation Vacations. Ovation Corporate Travel manages travel services for prominent finance, entertainment, retail, consulting and professional service firms since 1984. Our mission is to provide outstanding service, cost savings and comprehensive travel solutions to professional travel managers, administrators and business travelers. We are the 5th largest TMC by sales volume in the country according to Business Travel News, receiving accolades from more than 700 discerning clients. Ovation operates in over 50 offices nationwide and globally in more than 100 countries. For more information, please visit http://www.ovationtravel.com.