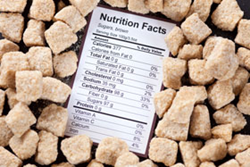 American Diabetes Month gives brands a golden opportunity to reach out to the millions of Americans living with this disease, and raise awareness in general
Denver, CO. (PRWEB) November 09, 2016
November is set aside to raise awareness of diabetes among the public. Approximately 29 million Americans suffer from this disease, many of whom have not been diagnosed. In November, brands and individuals can step up to provide information that will help people with diabetes manage their health and help those at risk of the disease avoid contracting it.
When it comes to raising awareness of a cause, custom product labels are a great way to get a message out. Due to diabetes' connection to blood sugar management, November will be a big month for food brands. From nutritional labels with detailed health information to custom food labels that raise awareness to bumper stickers that customers can take home as a free giveaway, Lightning Labels offers several products that can help brands step up their messaging this American Diabetes Month.
Possible Sticker and Label Uses
During November, food brands and other companies can reach out to customers in several different ways. Each one reflects a different facet of diabetes awareness or prevention, and organizations can each try multiple methods to get the message across.

Nutritional facts: People suffering from diabetes have to make careful nutritional choices. If a brand's nutrition labels highlight information relevant to diabetic customers, it can be a great help. While November is a great time to add this feature to product labels, it's the kind of change that will be useful all year long.
Healthy recipes: Packaging can also be a great place for relevant recipes. Brands can get in the spirit of American Diabetes Month by listing recipes that suit diabetic consumers' nutritional needs. This is another way to acknowledge the awareness month by being directly helpful.
Awareness stickers: Any company can promote diabetes awareness this November by handing out branded stickers. Bumper stickers are especially good for this purpose, as they can really be applied to any surface, not just the back of a car. These tough stickers display their messages for a long time, even well after November is over. Diabetes awareness is especially important because as many as 8 million Americans are living with the disease undiagnosed. A good awareness campaign could help people recognize this potentially deadly disease.
Time for Custom Product Labels
November is already underway , but that doesn't mean companies will have to wait until next year to tie their offerings into American Diabetes Month. Lightning Labels' all-digital printing processes and policy of using domestic facilities instead of outsourcing means that orders are fulfilled quickly and affordably.
"American Diabetes Month gives brands a golden opportunity to reach out to the millions of Americans living with this disease, and raise awareness in general," said Lightning Labels Director of Business Development AnneMarie Campbell. "Our custom labels are great for this purpose, and we're proud to enable this valuable outreach."
Food brands and companies of all types can reach out now and receive their labels with time to spare in November. This goes for organizations large and small, and of all descriptions, as Lightning Labels' digital printing processes are affordable even at small batch sizes.
About Lightning Labels:
Lightning Labels uses state-of-the-art printing technology to provide affordable, full-color custom labels and custom stickers of all shapes and sizes. From small orders for individuals to the bulk needs of big businesses, Lightning Labels is equipped to handle and fulfill custom label and sticker projects of all types. Best of all, like the name implies, Lightning Labels provides a quick turnaround for every customer's labeling needs. Uses for Lightning Labels' custom product labels and custom stickers include food packaging and organic food labels, wine and beverage labels, bath and body labels, and nutraceutical products, such as vitamins, essentials oils, and herbal remedies, as well as event stickers, adhesive window stickers and more. Lightning Labels strongly supports the development of environmentally friendly printing materials and carries EarthFirst PLA, a new kind of green label material made from corn instead of petroleum. While operating as a high-tech printer, Lightning Labels prides itself on its personalized customer service. Lightning Labels provides one stop shopping for all of your custom label needs. For more information and to place orders online, visit LightningLabels.com. For the latest in packaging news and labeling promotional offers, find Lightning Labels on Twitter (@LightningLabels), Facebook, Pinterest, Google+ and LinkedIn