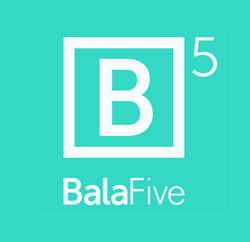 "BalaFive Cheat Smarts allow you to eat how, what and when you want without the guilt or pressures to exercise"
Los Angeles, CA (PRWEB) November 09, 2016
Los Angeles – November 08, 2016 – BalaFive™ – the new weight management program revolutionizing how people lose and keep weight off – today announced it is providing its nutritious and energy boosting "Cheat Smart" snacks to the cast and crews of some of the country's top entertainment programs. BalaFive's snacks now appear behind-the-scenes for the professional dancers and celebrity talent appearing on this season of Dancing With The Stars; in the kitchen and for the audience of The Rachael Ray Show; and, to fuel the production team and talent of BET Networks which will air a farewell music event on November 15th in honor of President Barack Obama and the First Family. As part of its mission to show people how to achieve lifelong weight loss in a healthy way, BalaFive is helping people find their balance by living and eating smarter, where balancing one's own biology is the key to success in achieving a desirable weight and healthy body.
"Being a part of these exciting experiences and helping nourish and energize hard-working entertainers is certainly testament to the power of eating – and cheating - the right way to achieve optimal weight and wellness," said Suzi Alter, founder of BalaFive and CEO of Innovations 4 Health. "Our Cheat Smarts are delicious and allow you to still eat how, what and when you want but without any of the guilt or the pressures to exercise constantly…especially when a busy lifestyle makes it challenging to eat healthy or fit in a workout or actually not cheat once in a while."
Every "Cheat Smart" snack offers your brain and your palette something delicious and rewarding, while still providing the underlying benefits for balancing your biology. On the taste side, BalaFive's Cheat Smarts offer something for any craving – such as gummies, candy, cookies, potato chips, caramel popcorn, chocolates, gum and more – and each one will make the reward centers in your brain light up like the Mirror Ball Trophy. That's because the key to weight loss and weight management is finding a biological balance via brain function, since the hungry brain is the single biggest obstacle to shedding fat.
Alter continued, "With an estimated 50 million Americans going on diets each year and only 5 percent keeping the weight off, it's safe to say that most of us feel pretty discouraged. And we're spending more than $60 billion per year on dieting even though most don't work, which is because most diets encourage a temporary solution and promise you quick fixes that are unrealistic."
BalaFive recognizes that the brain has the ability to quantify the pleasure contained in an eating experience by the dopamine neurons and the sensing of calories by the gut. And since the neurotransmitters of the brain are responsible for controlling hunger and snacking, BalaFive restores and maintains the balance between them and simultaneously affects multiple triggers of eating and metabolism while targeting the body's five essential systems that influence obesity.
1. Sensory: targets specific neuropathways in the brain and helps regulate reward behavior, emotion and appetite
2. Fat cell: controls development of new fat cells and breaking down fatty acids
3. Digestive: inhibits fat and carb absorption while making you feel full
4. Metabolism: stimulates metabolic rate while burning more fat and calories at rest and during exercise, making you feel energized.
5. Endocrine: regulates your insulin and blood sugar levels while helping your body respond to sugar and fat.
BalaFive achieves results through a combination of medical foods, dietary supplements and functional foods including its Cheat Smart snacks. While some may benefit from the whole program, BalaFive tailors its program to each person so they can create their own individual balance according to their lifestyle. And maybe that's just adding Cheat Smarts to one's day by grabbing a bag of Simply Sinful BBQ potato chips instead of a bag of chips with high fat and calories. Basically BalaFive is a lifestyle program that jump-starts weight loss and ensures it's maintained by allowing the individual to pick and choose how he/she wants it to supplement their current life. What also makes the BalaFive program unique is that MedActiv, BalaFive's core Medical Food, may be reimbursable under various medical insurance and pharmacy benefit plans.
About BALAFIVE
BalaFiveTM is a comprehensive weight management program that's designed to let you find your individual balanced biology, while it tweaks all your systems from your brain to your metabolism. It comes complete with Cheat Smart snacks that you can't wait to eat. Every bite will take you back to a great childhood memory and help you create new ones that are even better. Find us at http://www.BalaFive.com and follow us on Instagram, on Twitter and on Facebook.
For further information, imagery and interview requests with BalaFive's developer, please contact:
Laura Hall
917.544.6344
Laura(at)HallComms(dot)com