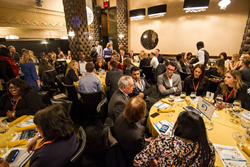 Cablefax's 2016 Overachievers Under 30 set a high standard for professional excellence, forward thinking and pioneering spirit.
New York, New York (PRWEB) November 10, 2016
Prepare to be motivated. Cablefax's 2016 Overachievers Under 30 set a high standard for professional excellence, forward thinking and pioneering spirit.
These 44 emerging leaders will be honored December 14, 2016, at New York City's The Standard, High Line during a networking reception.
2016 Cablefax Overachievers Under 30:

Miles Aghajanian, Destination America, American Heroes Channel
Michael Baireuther, Discovery
Michael Benjamin, TV One
Christian Blauvelt, BBC Worldwide North America
Rachel Brenner, Investigation Discovery
Michelle Chapetta, Crown Media Family Networks
Jasmine Clennon, Turner
Briana Currier, TiVo
Christina Douglas, Investigation Discovery
Nichole Earl, Sony Pictures
Lauren Elias, Viacom Velocity
Julie Feinerman, EPIX
Charlotte Fletcher, Investigation Discovery, Destination America
Gaige Flint, Comcast
Isaac Holub, Lucky 8 TV
Brittany Kayton, Discovery Communications
Yong Kim, NBC Entertainment & Universal Television
Eric Kuhn, Layer3 TV
Jessica Lee, Discovery Communications
Samantha Lee, SundanceTV
Marshall Lipman, Jewelry Television
Ben Litvinas, Comcast
Adam Lynch, Viamedia
Elias Lyons, Investigation Discovery
Whitney Marshall, TV One
Danielle Matlin, TLC
Matthew McConnell, Scripps Networks Interactive
Nicole McIntyre, Showtime Networks
Andrew Mearns, SNL Kagan
Neeve Nikoo, Cisco
Brian O'Toole, Viacom
Danielle Phillips, Comcast Spotlight
Monica Revare, Layer3 TV
Alex Ryan, UM
Donovan Sharp, Comcast
Jaunice Sills, REVOLT Media & TV
Evan Smith, Comcast
Luke Snyder, Discovery Communications
Regina Sommese, Discovery Communications
Katya Troyky, Viamedia
Danielle Wager, A+E Networks
Monica Walsh, Discovery Communications
Kate Warburton, CMT
Tyler Zlotnick, BBC America
For more information on the Cablefax Overachievers Under 30 honorees or to purchase tickets to the upscale networking celebration on December 14, 2016, visit: http://bit.ly/CFXU30
For questions regarding Cablefax's Overachievers Under 30 Event, contact Alex Virden at avirden(at)accessintel(dot)com or 301-354-1619.
About Cablefax:
Cablefax is the most trusted brand in the industry, providing cable executives with the most original, comprehensive and insightful overview of the latest industry news and strategic initiatives. Cablefax offerings include a wide range of resources for cable professionals, including Cablefax Daily, Cablefax: The Magazine, award programs, webinars, and networking events. For more information, visit http://www.Cablefax.com.