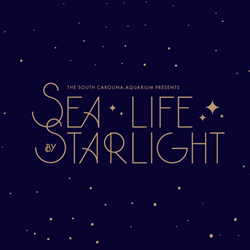 Charleston, S.C. (PRWEB) November 10, 2016
Get your tickets for a festive night out among the aquatic surroundings of the South Carolina Aquarium at Sea Life by Starlight on Saturday, Dec. 3, 2016. The sixth annual event, presented by PNC Bank, features a 1920s theme along with tasty bites from local restaurant partners, an open bar, live music, entertainment and a silent auction. All-inclusive VIP and main event tickets are available to Sea Life by Starlight, with the proceeds benefiting conservation and education programs at the Aquarium.
VIP Reception Includes:

Cocktail competition between Republic Garden and Lounge, Stars Restaurant, The Glass Onion, Victor Social Club and Home Team BBQ
Exclusive entertainment
Specialty hors d'oeuvres
VIP reception begins at 6:30 p.m. and ends at 8 p.m.
Tickets are $100 per person
To purchase tickets, please call (843) 577-FISH or visit scaquarium.org/slbsl
Main Event Features:
Full open bar
Delicious bites from local restaurant partners including The Boathouse, Fleet Landing, Fuel and Sesame Burgers and Beer
Live music from the Two 3 Ways Band
Silent auction, including a beach house rental and tickets to the 2017 Masters Tournament, the Charleston Wine + Food Festival, the Southeastern Wildlife Exhibition and Snyder Grand Ball New Year's Eve.
Drawing for a chance to win one of two $1,000 Diamonds Direct gift certificates
1920s themed photo booth
Holiday themed dive show in the Great Ocean Tank
Main Event starts at 8 p.m. and runs until 11 p.m.
Tickets are all-inclusive; $80 per ticket, $65 for Aquarium members, couples' packages available
For more information or to purchase tickets to Sea Life by Starlight, visit scaquarium.org/slbsl or call (843) 577-FISH (3474).
The event is hosted by the Aquarium's Ocean Alliance, a group of young professionals with a shared passion for education and conservation at the Aquarium.
Sea Life by Starlight is presented by PNC Bank. Supporting sponsors include: Diamonds Direct, CNT Foundations, Starkey Mortgage, Charleston Magazine and EventHaus.
For all media inquiries, please contact Kate Dittloff at (843) 579-8660 or kdittloff(at)scaquarium(dot)org.
About the South Carolina Aquarium:
The South Carolina Aquarium, Charleston's most visited attraction, features thousands of amazing aquatic animals from river otters and sharks to loggerhead turtles in more than 60 exhibits representing the rich biodiversity of South Carolina from the mountains to the sea. Dedicated to promoting education and conservation, the Aquarium also presents fabulous views of Charleston Harbor and interactive exhibits and programs for visitors of all ages.
The South Carolina Aquarium is a 501(c)(3) not-for-profit organization and is open daily from 9 a.m. to 5 p.m. The Aquarium is closed Thanksgiving Day, half day Dec. 24 (open 9 a.m. to 1 p.m.) and Dec. 25. Admission prices are: Toddlers (2 and under) free; Youth (3-12) $17.95; Adults (13+) $24.95. For more information call (843) 720-1990 or visit scaquarium.org. Memberships are available by calling (843) 577-FISH.