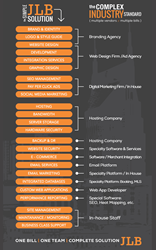 Nashville, TN (PRWEB) November 10, 2016
JLB, a business class digital marketing services firm, today announced the hire of Chris Wolff as the company's head of Business Development. Chris brings 28 years of leadership experience in driving sustainable results in revenue, customer and employee satisfaction via direct and indirect channels. Chris previously held sales leadership roles at CloudRoute, GTT, EarthLink and AT&T.
Wolff also transformed over 10,000 Microsoft Enterprise sales and management professionals from a product/transactional sales force to an enterprise sales force capable of selling "solutions". Furthermore, Wolff built sales training programs at AT&T that were recognized and awarded by PricewaterhouseCoopers as Most Innovative Training Program in America and as the Best Corporate Sales Training Program in America by the NJ Society of Human Resource Management. 
As head of Business Development, Wolff is tasked with leading JLB's acquisition strategy and launching the strategic growth program including specific industry verticals. Also, expanding JLB's sales through the development of key partnerships and relationships that further enhance the company's market presence and value proposition. "JLB is poised to capitalize on tremendous market potential by offering business class web services and needed technology bundles for businesses. "JLB's business development initiatives will help catapult the company to the next level," said Wolff. "Joining JLB is an exciting new venture for me. They have grown double digits year over year with over 100% growth this year, so I look forward to playing a key role in its continued success."
"We have grown tremendously by providing businesses with web and online services as a whole that would normally be handled by 10 plus vendors. We package and manage all of those services and then drive the brand and marketing with business class service level expectations. Our firm's business development strategy with Chris Wollf taking the lead will serve as the accelerant to our business growth," said Ken Royer, a former executive of AT&T and Earthlink and now JLB's President. "His high energy leadership and passion is a great fit for our team and the marketplace."
About JLB (http://www.jlbworks.com)
JLB is an Internet marketing and communications business that delivers professional business class services from early concept to post-live support. JLB was proudly voted best web design and development firm in 2014 and recognized in 2016 as the fastest growing small business in Nashville. JLB's core value is that all key elements of a business's website marketing operation is fully managed to include business class webmaster support. For more information, please visit http://www.jlbworks.com or contact JLB at 888-833-0255.