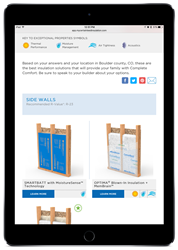 Malvern, PA (PRWEB) November 09, 2016
Building a house or undertaking a major home remodel means lots of decisions, which can be a very overwhelming process. Luckily, the process of choosing insulation just got easier, thanks to a new mobile-friendly, web-based tool from CertainTeed. By answering a few simple questions, homeowners can easily find and choose the best insulation systems for every area of their home.
"Too many insulation choices can be mind-boggling, especially for a homeowner who is undertaking a major remodeling project or building a new house," said Greg Silvestri, president of CertainTeed Insulation. "What's behind the wall matters and upgrading insulation later is difficult, disruptive and expensive. But now with just a few clicks, homeowners can achieve a comfortable, healthy living environment that provides utility savings and investment protection in the long run."
Found at http://www.certainteed.com/myinsulation, the Insulation Selector Tool works by recommending a personalized selection of insulation solutions based on climate data, budget and the homeowner's specific needs for their home and family. The tool considers a wide range of variables that impact comfort, including energy efficiency, family allergies, moisture management and noise control. Each question within the tool includes a quick tip, allowing homeowners to learn more about each consideration involved in choosing the right insulation along the way.
Upon completion of the questionnaire, homeowners receive a personalized page of results detailing the specific insulation solutions that are recommended for them, sorted by application area (side walls, interior walls, attics and basements). Results can be easily shared with a builder or contractor via email, or if the homeowner does not already have an installer, recommendations can be quickly found utilizing the Find a Pro links from the tool.
Regardless of location or the challenges of a remodeling project or new build, whether the answer is fiberglass, spray foam, blown-in or a hybrid system, CertainTeed has the right solution, and the Insulation Selector Tool can help homeowners find it. CertainTeed offers the widest selection of high-performance insulation products available. Each product has been scientifically developed to provide the maximum level of comfort, protection and efficiency. For more information, visit http://www.certainteed.com/myinsulation.
About CertainTeed
Through the responsible development of innovative and sustainable building products, CertainTeed, headquartered in Malvern, Pennsylvania, has helped shape the building products industry for more than 110 years. Founded in 1904 as General Roofing Manufacturing Company, the firm's slogan "Quality Made Certain, Satisfaction Guaranteed," quickly inspired the name CertainTeed. Today, CertainTeed® is North America's leading brand of exterior and interior building products, including roofing, siding, fence, decking, railing, trim, insulation, gypsum and ceilings.
A subsidiary of Saint-Gobain, one of the world's largest and oldest building products companies, CertainTeed and its affiliates have more than 5,700 employees and more than 60 manufacturing facilities throughout the United States and Canada. The group had total sales of approximately $3.3 billion in 2015. http://www.certainteed.com
###