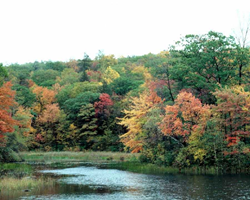 "Even those familiar with The Galena Territory are going to be delighted with all the ways to enjoy this place at one of the most beautiful times of the year," said Thomas Ruhs, general manager at Eagle Ridge Resort & Spa.
GALENA, Ill (PRWEB) November 08, 2016
Whether guests zipline at 40 miles-per-hour through the treetops, drive a ball down the fairway on a world-class golf course, or soar during a breathtaking balloon ride, they'll be relishing more than 6,800 acres of the most amazing hills, valleys, rivers and lakes in the Midwest.
"Even those familiar with The Galena Territory are going to be delighted with all the ways to enjoy this place at one of the most beautiful times of the year," said Thomas Ruhs, general manager at Eagle Ridge Resort & Spa, the resort and vacation destination that resides in The Galena Territory. "We've partnered with more local businesses and the community so couples and families can have a fall adventure or relax and unwind."
Upcoming events and activities in The Galena Territory and surrounding area include:
November 2016

Hiking and biking. Surrounded by more over 20 miles of wilderness and paved hiking and biking trails, The Galina Territory is a show-off in the fall. Guests can take advantage of the many bike trails aboard their own wheels or those available, free of charge, at the resort.
Horseback riding. Trail rides and lessons at the Shenandoah Riding Center. With 40-miles of groomed riding trails, Shenandoah offers something for riders of all experience levels, from beginner to advanced. Sleigh rides start when the weather turns cold.
Scrapbook Weekend, Nov. 18 – Nov. 20. Avid scrapbookers unite to get away from it all and create beautiful memories. The special package from Eagle Ridge Resort and Spa includes meals, a dedicated workspace, and creative consultants.
Thanksgiving week, Nov. 23 – 26. One of the Midwest's largest Thanksgiving Feasts in the Eagle Ridge Ballroom has become an annual tradition. Or, those wishing for a smaller family event can order to have the feast delivered to their hotel room or villa by friendly Pilgrims and Native Americans. Crafts and family activities continue all week, and even Santa makes a special appearance.
Ongoing/Seasonal

Ballooning. Galena On The Fly lifts guests up-up-and-away over the rolling hills of The Galena Territory and historic downtown Galena. Seasonal and weather permitting, rides depart at sunrise and sunset directly from Eagle Ridge Resort & Spa with an experienced pilot who will take guests on a panoramic tri-state tour from an eagle's point of view.
Golf at one of four championship courses, all of which have been restored to their original design within the last three years. Open as along as possible until winter weather sets in.
FootGolf, a combination of soccer and golf. This growing sport is fun for the whole family. Played with a regulation #5 soccer ball, players advance through 18 holes aiming for 21-inch diameter cups.
Ziplining. A tour through the treetops with the Long Hollow Canopy Tours takes guests through progressively longer and higher ziplines, reaching speeds up to 40 miles an hour. The tour includes a rappel down two platforms and a 140-foot sky bridge. Zipling is seasonal and weather permitting.
Boating and fishing. The banks of Lake Galena offer the opportunity to take a leisurely cruise on one of the resort's pontoon boats, paddleboats, kayaks or canoes. Guests can also fish with their own gear, or bring rent a rod and reel from the resort.
More information about adventures in The Galena Territory and special packages and activities can be found on the Eagle Ridge Resort & Spa website, http://www.eagleridge.com, or by calling (800) 892-2269.
# # #
About Eagle Ridge Resort & Spa
Eagle Ridge Resort & Spa is located 150 miles west of Chicago within The Galena Territory, a 6,800 acre recreational, residential and resort community six miles from the historic town of Galena, Illinois. The resort's grounds include 63 holes on four award-winning golf courses, and accommodations that range from quaint Inn rooms to more than 250 villas and distinctive homes. IACC certified, Eagle Ridge Resort & Spa has 15,000 square feet of state-of-the-art meeting space and beautiful conference homes which regularly accommodate corporate groups, banquets and weddings. Other features include award-winning restaurants, the tranquil Stonedrift Spa, and an incredible selection of outdoor activities including miles of skiing, biking, hiking and horseback riding trails, as well as tennis, hot air balloon rides, boating and fishing on the picturesque 225-acre Lake Galena. For reservations or additional information, call (800) 892-2269 or visit http://www.eagleridge.com.
Eagle Ridge Resort & Spa
444 Eagle Ridge Drive
Galena, IL 61036
Toll Free: 800-892-2269 Local: 815-777-5000 Fax: 815-777-4502
http://www.eagleridge.com
Media Contact
Beth Strautz, 773-895-5387, beth(at)vaguspr(dot)com
FALL PHOTOS AVAILABLE HERE