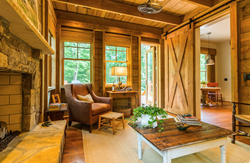 Award Winning Mountain Community in Georgia
Atlanta, Georgia (PRWEB) November 10, 2016
Only one hour north of Atlanta, lies a private residential mountain community situated on over 8,000 acres and across 7 picturesque mountains. With resort-like amenities such as championship golf, clubhouse dining, fitness, spa, boating, swimming, fishing, tennis, bocce, and over 22 miles of award-winning trails, it is no wonder Atlantans are flocking to the mountains looking for second homes, retirement homes or full time residency.
Big Canoe currently has over 2,650 homes and a variety of home sites available for those interested in new construction. Following architectural guide- lines to preserve the natural beauty and integrity of the mountain community, these homes are expertly crafted with beautiful views along the golf course, lakes, streams, surrounding mountains and lush forests. Some areas even have long-range views of the Atlanta skyline.
Led by Atlanta native Matt Barnes, Big Canoe Building Group, LLC has 40+ years of combined experience in production homes, custom homes and semi-custom homes. As the primary builder in Big Canoe, this team uses their expertise and buying power to produce homes of exceptional value.
With premier quality and true craftsmanship as their top priority, this group works to bring the Georgia mountain home of your dreams to life. Their homes can be found throughout the mountain community of Big Canoe, from the Southern Living cottage neighborhood of "Twin Creeks" to the prestigious private residential mountain community 700 acre mountain ridge neighborhood known as "Wildcat", and everywhere in-between.
Barnes says that one of his favorite aspects of the building and design process is exceeding his customers' desires. "I enjoy taking one special element in every home I build and making it a unique masterpiece for the homeowner; it's a surprise 'gift' for the client that we get to reveal."
"A huge part of making that happen is not only hearing what my clients have in mind, but truly listening; getting to know them as individuals with a unique set of requirements, budgets and needs. With over 20 years in this industry myself, I know that one of the most common mistakes that many builders make is not treating their clients to the gift of communication."
"As a state certified Earth Craft Builder, I also appreciate the rewarding challenge of making a home as energy efficient as possible, and making true 'quiet' homes that are as tranquil as they are beautiful. Your home should be your retreat, especially in such a unique mountain setting like Big Canoe."
DESIGNED FOR YOU
During the construction process, the Big Canoe Building Group (BCBG) team will sit down with folks from the very beginning to help plan a mountain home and budget. Their goal is folks complete satisfaction.
They even have a custom in-house design center to make building your dream home a reality. Their talented, in-house designer will walk folks through the entire creative design process to make a house a home.
This is one dynamic building team. Beyond numerous existing plans, BCBG can build a semi-custom home starting at $450,000 to a fully custom multi-million dollar mountain masterpiece.
RECENT ACCOLADES
Big Canoe Building Group, LLC is a member of the Greater Atlanta Home Builders Association (GAHBA), a State Certified Earth Craft Builder and National Association of Homebuilders (NAHB) Certified Green Professionals. Awards include:

2015 Bliss Award, Hiking Community of the Year, Real Estate Scorecard
2014 "The Nationals" Silver Award, Master Planned Community of the Year, NAHB
2014 Bliss Award, Mountain Community of the Year, Real Estate Scorecard
2012 OBIE Awards, Best Amenity Package for 500+ Units, GAHBA
2012 Bliss Award, Best Georgia Community of the Year, Real Estate Scorecard
2012 OBIE Awards, Best Building Design – Detached Model $500,000 to $749,999 for Wildcat, GAHBA
2011 OBIE Awards, Community of the Year – Master Plan, GAHBA
2011 OBIE Awards, Single Family Builder Detached 1-50 Homes/Year/$425,000 to $499,999 for Choctaw Village, GAHBA
2011 OBIE Awards, Single Family Builder - Detached 425,000 to $499,999, GAHBA
Award of Merit - For Outstanding Achievement In The Planning And Development Of A Resort Community In A Mountain Area, by The Georgia Land Development Association
Big Canoe Realty has a great Discovery Package experience where you get to stay in a brand new luxury home built by BCBG: For $375 per couple, you will enjoy a 3-day/2-night stay, 18 holes of golf, a $50 voucher toward dining at stunning Sconti Clubhouse, a 2 hour pontoon cruise on Lake Petit, a private tour of Big Canoe and much more.
Contact Matt Barnes at bcbg@bigcanoe.com or 706-268-2318 for more information about new construction opportunities in Big Canoe. 
Visit http://www.bigcanoe.com to book an exclusive Discovery Package experience.
About Real Estate Scorecard:
Real Estate Scorecard writes unbiased real estate reviews providing in-depth information about popular gated communities in Florida, Georgia, North Carolina, South Carolina and Tennessee, all in an effort to help people discover where to retire in the Southeast.
Website: http://realestatescorecard.com