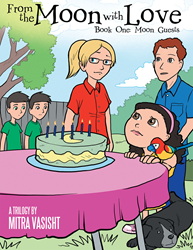 Stamford, CT (PRWEB) November 14, 2016
Mitra Vasisht's 40-year career serving in the practice of international diplomacy can be described by many as very gratifying. Now retired, Vasisht's national diplomatic experience has given her the basis for writing books for young readers as she recently published her first book.
"Moon Guests" is the debut book in a fantastical children's trilogy, "From the Moon with Love," which explores love, loyalty and encouragement. The book's messaging hones in on the importance of friendship and the need to treat others with respect, no matter their beliefs or background.
"Moon Guests" is about a young girl, Zola, who feels a magnetic attraction to her friend Luna on the Moon. Far from being a fantasy, her persistent efforts to contact her friend unlock a series of secrets and a flow of magical events. The final event in the first book sets the stage for what is yet to come in the trilogy.
"My interest in writing children's books is just as an echo of the wonderful creativity I see in my grandkids and their friends," Vasisht said. "My personal goal for this trilogy is only to reflect and ignite the tremendous imagination of children."
"Moon Guests" is a positive read and just the beginning to an exciting adventure as the journey continues in the children's trilogy.
"From the Moon with Love: Moon Guests"
By: Mitra Vasisht
ISBN: 978-1-48083-534-4 (hc); 978-1-48083-533-7 (sc); 978-1-48083-535-1(e-book)
Available at: Archway Publishing, Amazon and Barnes & Noble
About the author
Mitra Vasisht is a retired career diplomat from India who now lives in the United States. After a lifetime of diplomatic assignments, worldwide travel, and extensive reading, she has opted to focus on writing for children, astounded by their capacity for imagination. To learn more, please visit http://www.mitravasisht.com/
###
Review Copies & Interview Requests:
LAVIDGE - Phoenix
Courtney Coombes
480-998-2600 x 612
ccoombes(at)lavidge(dot)com
General Inquiries:
LAVIDGE - Phoenix
Maggie Driver
480-998-2600 x 584
mdriver(at)lavidge(dot)com