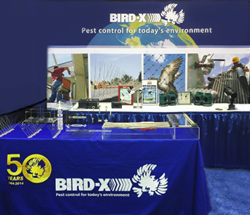 PestWorld gives participants the opportunity to learn about advancements in the industry with informative discussions and the demonstration of new products.
Chicago, IL (PRWEB) November 09, 2016
The annual PestWorld conference, presented by the National Pest Management Association, promotes critical thinking in the world of pest management. The conference gives pest control operators from all over the world a platform to share their knowledge and learn from others in their field. This year PestWorld was held in Seattle, Washington.
In a recent blog post, Bird-X employees take a look back at their experiences at PestWorld last month and discuss what they found productive, and why this show stands out to them. Along with a mention of Bird-X's latest laser technology-driven products, Mark Miller, Account Manager, explains the basic foundations of humane bird control.
Bird-X has been the world's leading brand in humane bird and pest control since 1964, and is dedicated to protecting human health, wildlife, and the environment. They manufacture a complete line of unique pest control products with an unmatched focus on quality, efficacy, and customer service.
For information on any of Bird-X's humane pest control products, please call customer service at (800) 662-5021.