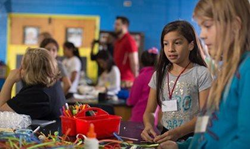 Manufacturing offers a wide variety of career options – from designers to data analysts, marketing to maintenance.
Dalton, Ga. (PRWEB) November 08, 2016
In celebration of National STEM / STEAM Day (Nov. 8), Shaw Industries Group, Inc. (Shaw) announces it has enhanced its STEM / STEAM educational partnerships with new and expanded relationships with City Park Elementary School in Dalton, Ga., Chattanooga Girls Leadership Academy in Chattanooga, Tenn., and Great Promise Partnership, Inc.
These programs are part of the Shaw's comprehensive and ongoing educational partnerships. Through education, mentorship, and hands-on experience, Shaw is showcasing to students from elementary school to college the rewarding careers available within the manufacturing field through an increased focus on science, technology, engineering, math, and arts.
"Manufacturing offers a wide variety of career options – from designers to data analysts, marketing to maintenance," notes Brian Cooksey, director of operations training and development at Shaw Industries. "Our educational partnerships allow students to find their passions and to see how they might apply those interests and skills in their future careers. We're helping develop the workforce of the future and providing students in the regions where we operate the opportunity to expand their horizons in ways they may not have previously considered."
Shaw's new dynamic and expanding educational partnerships include:
City Park Elementary School
In partnership with City Park Elementary School, Shaw has designed a STEM after-school program created to inspire and empower young girls. In its first year, the semester-long class will include 10 rising fourth graders and 21 rising fifth graders. The inspiring collaboration positions members of Shaw's Women in Leadership (WiN) program and the company's co-op students as ongoing mentors and leaders during the after-school program.
"This program is designed to build confidence, encouraging creative thinking and problem solving, and share the wide variety of possible careers available to these young girls," said Kim Gray, Shaw's Corporate Event Manager and a WiN Steering Team Member. "Not only are the students supported, but Shaw associates gain an opportunity to be involved in the community, to further our vision to create a better future, and to draw creative energy outside the workplace."
The elementary school partnership will complement Shaw's existing middle school programs, creating a more fully developed STEM education pipeline from kindergarten to college.
The Chattanooga Girls Leadership Academy
In partnership with the Chattanooga Girls Leadership Academy (CGLA), Shaw associates recently introduced a mentorship program for students in the 11th and 12th grades. Designed by the WiN Mentorship Team, the program partners 10 girls from the academy with 10 inspiring Shaw leaders for the school year. The Shaw mentors represent all areas of the company, exposing students to a variety of careers and professional perspectives.
"It was incredibly rewarding to see the room light up with laughter and nervous excitement as our Shaw associates and CGLA students met for the first time recently," said Melissa Pateritsas, an IT Manager at Shaw and a WiN Steering Team Member. "Connecting with the students in person and hearing their thoughtful questions and perspectives helped set the foundation for what we hope will become long-lasting relationships to help guide and shape these young women's career paths."
Shaw's mentors carefully crafted a program that incorporates opportunity for flexibility and creativity. During monthly mentorship meetings, specific professional growth topics will inspire conversation, but time will also be allotted for valuable open-discussion time.
The Great Promise Partnership, Inc.TM
With Great Promise Partnership, Inc., (GPP), Shaw provides employment opportunities to current high school students, enabling them to earn wages – while earning their diploma – and develop skills that will help them more readily enter the workforce post-graduation. Students gain hands-on experience in Shaw facilities and receive mentorship from Shaw associates to supplement their classwork.
Shaw began its collaboration with GPP in 2015 with students working in Shaw's samples department in Dalton, Ga. The program has expanded to additional areas of the company's manufacturing process. Students from Cass and Woodland High schools, in partnership with the Bartow County College and Career Academy, began work at two of Shaw's manufacturing facilities in Cartersville, Ga. in fall 2016.
About the Shaw Women's Innovation Network
WiN is a program created to support the development of leaders at Shaw through resources and opportunities that help women drive successful careers. WiN provides access to educational resources and training focused on career development and core competencies, mentorship, volunteerism, networking and more.
Recognizing the important contributions of women within our industry and workplace, WiN offers a platform to engage, connect and grow – helping create a better future in the process.
About Shaw Industries
Shaw Industries Group, Inc. offers a diverse portfolio of carpet, hardwood, laminate, resilient, tile & stone flooring products, synthetic turf and other specialty items for residential and commercial markets worldwide via its brands Anderson, Patcraft, Philadelphia Commercial, Shaw Contract, Shaw Floors, Shaw Hospitality, Shaw Sports Turf, Southwest Greens, Tuftex and more.
Headquartered in Dalton, Georgia, Shaw is a wholly owned subsidiary of Berkshire Hathaway, Inc. The company employs more than 20,000 associates with offices; R&D, manufacturing, warehousing and distribution locations; product showrooms; and/or salespeople throughout the U.S., as well as Australia, Brazil, Canada, Chile, China, India, Mexico, Singapore, United Arab Emirates, and the United Kingdom. For more information, visit http://shawinc.com.