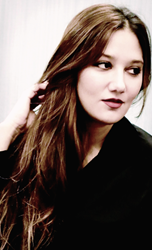 For me education is the most important step in achieving success. Harvard is a top university and I wanted to get the best experience possible for my area of interest.
Los Angeles, California (PRWEB) November 15, 2016
Award Winning Wedding Dress and Hollywood Costume Designer Arefeh Mansouri is known for innovative designs and Avant Garde Masterpieces that are immune to fashion trends.
During the completion of her Studies at Harvard she was busy with the design and build out of her new headquarters in Miami while simultaneously preparing the early stages of production for her new patent awarded invention: FLAT PLAT.
A talent powerhouse, Arefeh Mansouri has won multiple awards for her Designs and was nominated for the National Design Award. Her new location in Miami's Coral Gables neighborhood will provide an intimate environment for clients looking for unique couture gowns and a one-on-one experience. The House of AREFEH can turn your "Dream Wedding Dress" into reality.
Arefeh took time out of her busy schedule to further her formal education at Harvard University, John F. Kennedy School of Government, Executive Education. Arefeh Mansouri places a high priority on education: "For me education is the most important step in achieving success. Harvard is a top university and I wanted to get the best experience possible for my area of interest."
AREFEH Miami Bridal Boutique/Headquarters is accepting online appointments starting in January.
http://www.arefeh.com/make-an-appointment-2/
For more information about AREFEH BRIDAL, visit http://www.Arefeh.com
Join Arefeh Fashion's fan pages on:
https://www.facebook.com/AREFEHFASHION/
https://www.instagram.com/arefehfashion/