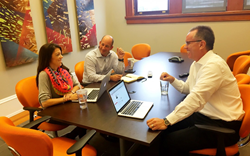 "Being a recognized thought leader opens the door to many conversations and opportunities," said Greg Abel, president and founder of Abel Communications
Baltimore, Md. (PRWEB) November 09, 2016
Abel Communications today announced that it will host 'Becoming an Expert: A Night of Thought Leadership, Cocktails & Conversation' on November 15 from 6pm – 8.30pm.
The event will feature a local menu of Baltimore food and drink from the likes of Five and Dime, Union Brewery, Waverly Brewery and DuClaw. Additionally, attendees can reserve a spot to have a complimentary professional headshot taken by award-winning photographer, Chelsea Clough.
Held in collaboration with Baltimore Public Relations Council (BPRC) and the voice of the Baltimore Ravens, Gerry Sandusky, the event aims to help attendees understand what it takes to become a well-known, often quoted, in-demand industry expert.
Greg Abel, president and founder of Abel Communications, and Gerry Sandusky, best-selling author and sports director at Baltimore's WBAL TV, will team up to tackle the issue.
Greg will share his experiences as a PR leader and journalist to provide insight into the qualities and attributes of thought leaders who succeed with the media, while providing tips to develop effective messaging and positioning.
Gerry, who is a long-time media training and executive presentation consultant, will highlight what executives and professionals should do to impress in front of any audience.
"Being a recognized thought leader opens the door to many conversations and opportunities," said Greg Abel. "By thinking strategically and planning ahead, many executives and companies can become the expert that others turn to for guidance and clarity. We look forward to sharing case studies and tips for our colleagues and friends at the event."
Sandusky added, "Becoming a thought leader often means developing new habits and behaviors to command an audience. Those who are successful deliver information in a way that is engaging and useful. It's a skill that requires discipline and practice and I'm looking forward to sharing best practices."
The event will be held at Abel Communications, 3355 Keswick Road, Suite 300, Baltimore, MD 21211.
The event is $20 for BPRC members; $30 for non-members; $10 for students; and guests of members are free. Attendees who register before November 8th will receive a $5 discount and walk-ins will be charged an additional $10.
For more information about the event or to register, visit: https://baltimoreprcouncil.org/pr-events/becoming-an-expert-a-night-of-thought-leadership-cocktails-conversation-november-15/
About Abel Communications
Abel Communications is a results-driven public relations firm specializing in campaigns to support clients in professional services, health and wellness, and non-profits. We offer a range of services including comprehensive communications planning, media relations, photo and video, social media and strategic content development. Abel Communications' clients include UnitedHealthcare, Medifast, STX, MRIS, 1st Mariner, Force 3, and CohnReznick. For more information, visit http://www.abelcommunications.com