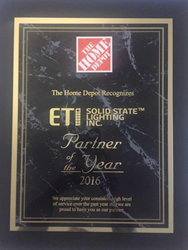 ETi Solid State Lighting Partner of Year
Vernon Hills, IL (PRWEB) November 10, 2016
The Home Depot®, the world's largest home improvement retailer, announces that ETi Solid State Lighting (ETiSSL) won the retailer's 2016 Partner of the Year Award.
ETi Solid State Lighting was selected because it has led in the number of innovative LED lighting solutions that made energy efficient lighting readily available. Known for new products that drive real benefits to consumers, ETi Solid State Lighting also exceeded expectations in sales, service and program execution. With this award, The Home Depot recognized ETi Solid State Lighting for excellence in collaboration, and their strategic vision and commitment to succeed in the market.
"With a relentless commitment to provide innovative solutions, we are dedicated to deliver results through respectful collaboration," says Eva Chan, President of ETi Solid State Lighting. "This is an achievement only made possible by the entire team working together with a keen focus on our strategy of fantastic people, end user focus, timely innovation, and operational excellence."
This award recognizes the outstanding efforts of one manufacturer in each of The Home Depot® store departments. Awarded by the retailer's merchandising team, the award recognizes exceptional efforts by the vendor's entire organization. Chosen among several of the largest companies in the home improvement industry, ETi Solid State Lighting is honored to receive The Home Depot Hardware Department Partner of the Year.
About ETi Solid State Lighting, Inc.
ETi Solid State Lighting is a wholly owned subsidiary of Elec-Tech International Co. Ltd., providing the latest in LED lighting technology with a growing line of products that include LED tubes, fixtures, LED down lights, and portable under cabinet lights. The U.S. headquarters is located in Vernon Hills, IL. Additional information is available by calling 1-855-384-7754 or online at http://www.ETiSSL.com.
About Elec-Tech International Co., Ltd.
Elec-Tech International Co., Ltd. (ETi), an innovative leader in the small household appliances and LED lighting industries, was founded in Zhuhai in May 1996 and listed on the Shenzhen Stock Exchange in June 2004 with its stock code as 002005. ETi now operates more than 20 wholly owned and holding enterprises with more than 15,000 staff as well as seven research & development and production bases – located in Zhuhai, Wuhu, Zhongshan, Shenzhen, Dalian, Yangzhou and Bengbu. With 765 patents, ETi is one of the outstanding private technology-based enterprises and key hi-tech enterprises under the State Torch Plan in China. In addition to the ETi brand name and private label products, ETi has the rights to develop, manufacture, market, distribute, and sell LED lighting under the prestigious German brand AEG in Europe, Japan, and the United States.