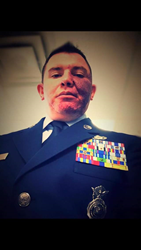 New York, New York (PRWEB) November 09, 2016
1st Sergeant Scott L. Cupples of the United States Air Force first contacted Dr. Linda Rozell-Shannon and the Vascular Birthmarks Foundation (VBF) to attend their annual conference being held in New York City on October 8, 2016. Scott has an "aging" Port Wine Stain which means it was beginning to thicken, change texture, and develop nodules. These nodules, when in the beard area, can easily pop and bleed when shaving. This progression makes treatment a necessity, rather than a cosmetic issue.
One of the benefits offered at the annual Vascular Birthmarks Foundation conference is a free laser treatment with Roy G. Geronemus, M.D. at the Laser & Skin Surgery Center of New York. Dr. Geronemus and his team have pioneered many of the technologies and techniques utilized in the treatment of vascular birthmarks and work closely with VBF to educate physicians and treat patients globally.
Scott received his first ever laser treatment at the 2016 annual conference and noticed the texture of his skin took on a smoother appearance and many of the nodules had flattened. The results of just one treatment were so encouraging that he decided to seek out additional treatment and reached out to the Vascular Birthmarks Foundation for guidance.
1st Sergeant Cupples is passionate about mentoring those with Port Wine Stain birthmarks and ensuring they never let their Port Wine Stain hold them back from what they want to achieve in life. He speaks candidly about still having insecurities when it comes to dealing with his birthmark, but is a shining example of perseverance and success. On January 19, 2016, Scott achieved the rank of Master Sergeant in the United States Air Force just before completing his 13th year of service. Shortly after, he was selected to become the 1st Sergeant of his unit. As 1st Sergeant, Scott is responsible for all matters regarding morale, welfare, and conduct of all the enlisted members of his squadron and is the chief adviser to the Commander concerning the enlisted force.
It is this dedication and commitment to his country and the vascular birthmark community that has inspired the Vascular Birthmarks Foundation and Laser & Skin Surgery Center of New York to join forces and provide 1st Sergeant Cupples with complimentary laser treatments.