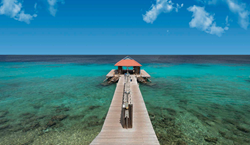 Las Vagas, NV (PRWEB) November 09, 2016
Attendees at the 2016 DEMA Conference in Las Vegas will have an opportunity to learn more about Divi Flamingo Beach Resort & Casino, the luxurious dive destination on eco-friendly Bonaire. Its latest updates, such as a new all-inclusive option and a recent renovation, will be on display at booth #5182, where streaming video and photography will showcase the unique resort.
Representatives from Divi Resorts will be offering great dive and vacation offers exclusively for DEMA attendees. Additionally, guests who visit the booth will be entered to win a complimentary seven-night stay for two with unlimited shore diving.
Divi Flamingo Beach Resort & Casino has several new features. In August 2016, the resort introduced an all-inclusive option to its guests as a way for them to take care of all their vacation expenses in one convenient package. The all-inclusive option is now available to dive groups as well, granting groups who choose this option unlimited food and drinks from the resort's two premium restaurants—in addition to fun extras like sunset yoga and salsa dancing.
Last year, Divi Flamingo Beach Resort & Casino also finished extensive renovations. They included a multitude of improvements to the rooms, such as new furniture, lighting, appliances, artwork from local artists and upgraded bathrooms, as well as to the resort's exterior, which received new paved pathways and landscaping. Divi Dive Bonaire, the resort's PADI 5-Star and SSI dive operation, debuted a brand new dive shop and retail space, complete with upgraded classrooms featuring the latest technology. A new 36' Newton dive boat has also been added, making it the sixth boat in the Divi Dive Bonaire fleet. The resort's pools have been redone and now include plush daybeds for poolside lounging, and a sun-lounge deck with drink service has opened. There is a new beach in front of the casino, featuring food and drink service, ocean access and furniture. The new pureocean restaurant has opened, offering fresh, buffet-style cuisine under an airy pavilion for breakfast daily, as well as themed dinners four nights per week. The resort's other restaurant, Chibi Chibi, has also undergone renovations that include new furniture, painting, lighting and more, in addition to delicious new menu items. Chef Antonio Bruni, who was recently hired as Divi Flamingo's Executive Chef, has developed new menu concepts for both restaurants. The entire resort renovation was completed in 2015 and provides a fully enhanced experience for guests at Divi Flamingo Beach Resort & Casino. The resort offers the best shore and boat diving on Bonaire, plus a fantastic oceanfront location just a short walk from the buzzing town of Kralendijk, where guests can enjoy shopping, dining and nightlife.
Even if you are unable to attend DEMA, you can preview some of the resort enhancements and access a brochure with Divi Resorts' latest dive packages at http://www.diviresorts.com/dive. To reserve, call 1-800-367-3484 to speak to a Vacation Specialist, available Monday through Friday from 8:00 a.m. to 5:00 p.m. (ET). For more information about Divi Flamingo Beach Resort & Casino, please visit http://www.diviresorts.com/divi-flamingo-beach-resort-bonaire.htm.
About Divi Resorts
Divi Resorts is the vacation expert of the Caribbean, with a collection of eight premium resorts spanning the five stunning Caribbean islands of Aruba, Barbados, Bonaire, St. Croix, and St. Maarten. With both hotel and vacation ownership options, the resorts provide a multitude of vacation pleasures, from relaxing on white sand beaches and indulging in spa services, to embarking on scuba diving adventures and perfecting one's golf swing. Vacation ownership is available through the Divi Vacation Club, a flexible, points-based product. For more information on Divi Resorts, call 1-800-367-3484 or visit http://www.diviresorts.com. For more information on the Divi Vacation Club, visit http://www.divivacationclub.com. Use of the Divi Resorts registered brand is licensed.
###