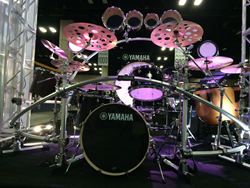 Indianapolis (PRWEB) November 09, 2016
Yamaha Corporation of America, a Percussive Arts Society (PAS) member since 1981, is introducing two new products, has 38 Yamaha artists performing or conducting clinics and is launching a new trade show booth at the Percussive Arts Society International Convention (PASIC) on November 9, 2016 in Indianapolis.
New Products
Timpani 8300 – Offering exceptional Yamaha quality and construction, this top-of-the-line timpani series features cambered hammered copper bowls, the exclusive Yamaha Pedal Adjustment Clutch system, and 24-inch and 27-inch models for expanded music potential. Learn more at http://4wrd.it/8300RSERIESTIMPANI.
YX-230 Xylophone – Measuring 45.5" long and weighing only 23 lbs., the 3-octave (C-to-C range) xylophone features 1.5"-wide bars and employs octave tuning for a tone that is suitable for solo playing and private practice at home. Learn more at http://4wrd.it/YX-230.
Also on display at the Yamaha booth will be the Recording Custom series drum set (http://4wrd.it/RECORDINGCUSTOM), the Recording Custom series snare drums, the DTX Lesson Lab, an acoustic/electric hybrid drum set featuring the Stage Custom Birch kit and the DTX Hybrid Pack.
The artists that work with Yamaha are leaders in their fields, and are well represented across the spectrum during PASIC demonstrations, concerts and clinics. Some highlights include Jason Baker conducting a marching/education clinic; Brady Harrison, Morris Palter, John Kilkenny, Lee Hinkle, Andy Bliss, Anders Åstrand, Michael Burritt, Rusty Burge, Steve Houghton and the Ethos Percussion Group performing concerts; and Troy C. Wollwage from Yamaha providing a professional development session.
Yamaha also is introducing a brand new booth at PASIC, designed to showcase its new products and make it easier for visitors to learn about items of interest. The new design provides a comprehensive experience for booth guests.
Finally, Ed Soph, professor in the Jazz Studies and Performance division of the College of Music at the University of North Texas and a Yamaha artist clinician, is to be inducted into the PAS Hall of Fame. Soph is internationally recognized as an author, master teacher and musician. The PAS Hall of Fame recognizes the contributions of the most highly regarded professional leaders in percussion performance, education, research, scholarship, administration, composition and the industry.
-END-
About Yamaha
Yamaha Corporation of America (YCA) is one of the largest subsidiaries of Yamaha Corporation, Japan and offers a full line of award-winning musical instruments, sound reinforcement, commercial installation and home entertainment products to the U.S. market. Products include: Yamaha acoustic, digital and hybrid pianos, portable keyboards, guitars, acoustic and electronic drums, band and orchestral instruments, marching percussion products, synthesizers, professional digital and analog audio equipment, Steinberg recording products and NEXO commercial audio products, as well as AV receivers, amplifiers, MusicCast wireless multiroom audio systems, Blu-ray/CD players, earphones, headphones, home-theater-in-a-box systems, sound bars and its exclusive line of Digital Sound Projectors. YCA markets innovative, finely crafted technology and entertainment products and musical instruments targeted to the hobbyist, education, worship, music, professional audio installation and consumer markets.