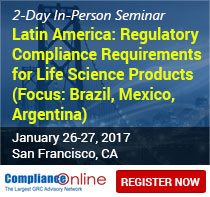 Focus: Brazil, Mexico, Argentina
Palo Alto, CA, USA (PRWEB) November 09, 2016
ComplianceOnline, the leading governance, risk and compliance advisory network with over 500 experts in various regulatory subjects, today announced a seminar on Latin America: Regulatory Compliance Requirements for Life Science Products (Focus: Brazil, Mexico, Argentina). The two day seminar, led by industry expert Robert J. Russell, will be held on January 26 and 27, 2017 in San Francisco, CA.
This two-day comprehensive course on Latin America regulatory compliance requirements will cover topics ranging from pre-clinical and clinical requirements through product registration, amendments and renewals across pharmaceuticals, biologics, medical devices and combination products. The seminar will also explain how Latin America interacts with and utilizes ICH standards and how they relate with other National Healthcare Authorities.
Participants will learn how personnel can best address the conflicts, which arise and the best course for resolution.
For more information or to register for the seminar, please click here.
Seminar Instructor Robert J. Russell is president of RJR Consulting, Inc., a global regulatory consulting company, specializing in understanding regulatory issues for the pharmaceutical, medical device and combination products industry. Mr. Russell has more than 30 years of experience working with FDA, EMA, and other healthcare authorities and agencies across Latin America, Middle East and Asia/Pacific, supporting clients' projects in these regions. Licensing, registrations, GMP, DMFs and borderline products are his core competencies.
This course will be beneficial to regulatory personnel, QA / QC personnel, global supply chain and manufacturing personnel. Administrative staff responsible for ensuring compliance with regulatory filings and overall regulatory compliance requirements will also find this training highly relevant.
Date: Thursday, January 26, 2017 (8.30 AM- 4.30 PM) and Friday, January 27, 2017 (8.30 AM- 4.30 PM)
Location: San Francisco, CA
Registration Cost: $2,099.00 per registration
Early bird discounts: For discounts on early registrations, please click here.
Register by phone: Please call our customer service specialists at +1-888-717-2436 or email to customercare@complianceonline.com
For more information on ComplianceOnline or to browse through our trainings, please visit our website.
About ComplianceOnline
ComplianceOnline is a leading provider of regulatory compliance trainings for companies and professionals in regulated industries. ComplianceOnline has successfully trained over 35,000 professionals from 9,000 companies to comply with the requirements of regulatory agencies. ComplianceOnline is headquartered in Palo Alto, California and can be reached at http://www.complianceonline.com. ComplianceOnline is a MetricStream portal. MetricStream (http://www.metricstream.com) is a market leader in Enterprise-wide Governance, Risk, Compliance (GRC) and Quality Management Solutions for global corporations.
For more information please contact:
A Reuben Bernard
Associate Director - ComplianceOnline
2600 E Bayshore Rd
Palo Alto CA USA 94303
Phone - +1-650-238-9656 | +1-888-717-2436
Fax - 650-963-2556
Mail: reuben(at)complianceonline.com
Website: http://www.complianceonline.com