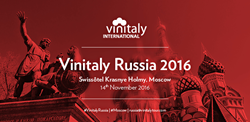 2016 has been another challenging year for the Russian economy, but I can see a definite growth in wine consumption
(PRWEB) November 09, 2016
Vinitaly Russia returns to Moscow to support the timid, yet promising recovery of the Russian market
On the 14th of November, Vinitaly International will return for the thirteenth year in a row to Moscow with Vinitaly Russia gathering Italian producers and Russian importers in the exclusive location of Swissotel Krasnye Kholmy in Moscow. The b2b event marks the hopeful beginning of a recovery in a country still divided on the one hand by an exponentially growing wine culture and on the other by an on-going but slowly improving economic crisis.
The financial sanctions imposed by Western countries and embargos for certain products back in 2014 created a difficult economic situation, seen above all in the devaluation of the rouble. During the course of the last couple of years this has inevitably taken a toll on Italian wine imports: on the one hand wine portfolios have had to be realigned with an eye to high-margin and less expensive wines. On the other, producers, and especially medium-to-small sized wineries, have had to agree to suspended payments and offer deeper discounts.
"We have been in Russia for almost 20 years and have witnessed the great potential of this market. In order to counteract the rouble depreciation we have developed a double strategy striving on the one hand to maintain our market share for premium wines such as Amarone and Brunello, and on the other to promote medium-priced wines like Valpollicella Ripasso, Primitivo and igt Toscana", explains Pierangelo Tommasi, Owner and Export Manager at Tommasi Wine Estates. "We are very proud to be present at Vinitaly Russia 2016 and support Vinitaly's strategy to present Italian wines as an unified Made-in-Italy brand. Nowadays individualism is certainly not the key to overcome an economic crisis".
Long-term strategy, structural partnerships, strong promotion and sacrifice are a must for all wineries wishing to maintain their presence in the Russian market. "We export to 60 countries around the world and have been in Russia since 2011" says Riccardo Pasqua, CEO at Pasqua Vigneti e Cantine Spa. "Our focus has always been a medium to-long-term strategy carried out in cooperation with a well established Russian partner. Even when the rouble was at its lowest our cooperation with a local partner has greatly helped to invest in medium-term actions aimed at covering possible market share losses."
"We have become clever at dealing with this on-going crisis", says Ekaterina Kozlakova, Head of the Restaurant Division at OKB, one of Russia's top wine importers, "but it was indeed necessary to introduce cheaper wines, an effort we asked our Italian producers to make in order to stay in the market."
In January-July 2016 Italian wine has seen a timid yet promising recovery with an increase of +4,5%, against last year's -28% for a total value of 28,8 million euro and 27% market share. Wine represents 24% of Italian agribusiness export to Russia, the equivalent of 27,7 million liters, with a 70% represented by still bottled wine and 27% by sparkling wines. (source Italian Food, June 2016: http://www.italianfood.net/blog/2016/06/01/italy-leads-russia-wine-market/)
This favorable trend will be confirmed by the presence at Vinitaly Russia of more than 160 wineries during the traditional afternoon Walk Around Tasting organized in collaboration with some of Russia's top Italian wine importers and thanks to the collaboration with Media Partner, Simple Wine News and Technical Partner Nespresso.
Italian wine will be represented North to South, with an impressive one third coming from Veneto, thus confirming the interest of Russian consumers for the region's authentic DOC sparkling wines. Among the most exported grape varieties from the area, Veneto wineries will be showcasing Prosecco DOC, Colli Euganei DOC, Merlot, Cabernet, Chardonnay and Pinot Grigio.
Veneto and Verona will also be the protagonists of a Masterclass chaired by Verona Wine Top, the wine competition organised each year by the Chamber of Commerce of Verona.
For the first time VIA Scientific Director, Ian D'Agata, will pass the microphone to Italian Wine Ambassadors of the Vinitaly International Academy, Veronica Denisova and Nikolay Chashchinov. "I am looking forward to attending Vinitaly Russia" says Nikolay, "2016 has been another challenging year for the Russian economy, but I can see a definite growth in wine consumption. On the positive side, many new wine-bars and specialized wine shops have being opening with a more careful wine selection thus representing an interesting target for Italian producers, especially for lesser known Italian wines and grape varieties with better price/quality relationship." The IWAs will be presenting the two VIA seminars "Five Italian wine icons from the Country's leading estates" and "Learning about Italy's many great wines: a panoramic tasting from North to South".
During the afternoon there will also be the announcement of the winner of the new social media contest launched by Vinitaly International on the Vinitaly Russia Facebook event page (https://www.facebook.com/events/1696986207288843/). Participants need to send in a picture of Italian wine paired with a Russian city with the hashtags #onepictovinitaly and #VinitalyRussia. The prize is a trip to Vinitaly 2017. The contest ends on November 11th. For more information please visit http://www.vinitalyinternational.com/events/russia2016.
You can register to Vinitaly Russia by clicking on the following link:
http://www.eventbrite.it/e/vinitaly-russia-2016-tickets-28362284356
For more information: russia(at)vinitalytour.com
About:
Veronafiere is the leading organizer of trade shows in Italy including Vinitaly (http://www.vinitaly.com), the largest wine and spirits fair in the world. During its 49th edition Vinitaly counted some 4.000 exhibitors on a 100.000 square meter area and 150.000 visitors including more than 2.600 journalists from 46 different countries. The next edition of the fair will take place on 10 - 13 April 2016.
The premier event to Vinitaly, OperaWine (http://www.vinitalyinternational.com) "Finest Italian Wines: 100 Great Producers," will unite international wine professionals on April 9th in the heart of Verona, offering them the unique opportunity to discover and taste the wines of the 100 Best Italian Producers, as selected by Wine Spectator. Since 1998 Vinitaly International travels to several countries such as Russia, China, USA and Hong Kong thanks to its strategic arm abroad, Vinitaly International. In February 2014 Vinitaly International launched an educational project, the Vinitaly International Academy (VIA) with the aim of divulging and broadcasting the excellence and diversity of Italian wine around the globe. VIA has now also created its very first Certification Course with the aim of creating new Ambassadors of Italian Wine in the World.