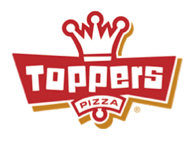 Whitewater, Wis. (PRWEB) November 15, 2016
Since the first Toppers Pizza location opened its doors for business 25 years ago, the brand has been on an unwavering mission to never settle. The motto, which is printed on every one of the brand's pizza boxes, is evident in everything Toppers does. From its top-quality ingredients and innovative menu to fast delivery times and unrivaled digital presence, the brand is constantly setting the standard in the booming pizza industry. But that commitment to being the best and taking on the biggest players in the business isn't limited to its pizza—Toppers also offers a one of a kind corporate culture that creates opportunities for professional growth. That's why the brand is hiring 1,500 new workers across its entire franchise system by the time 2016 comes to a close.
Throughout the year, Toppers has experienced tremendous growth. With climbing sales and three signed multi-unit development deals that will ultimately add 41 new locations to Toppers' ever-growing network, it's clear that the brand is building strong momentum. By bringing new Team Members on board, Toppers is giving hard workers the opportunity to grow their careers right alongside the brand.
In addition to hiring new Team Members across its nearly 80 stores, Toppers is also preparing for rapid expansion as it heads into the new year with the promotions of current staff members to new positions. With new stores set to open their doors for business in the first quarter of 2017, Toppers needs experienced managers to lead the way.
"The Toppers brand is built on the opportunity to build a career through hard work and dedication. When one of our Team Members shares our passion for providing the best pizza experience in the industry and demonstrates potential, we want to see them take on new roles and become brand leaders," said Scott Gittrich, Toppers Pizza's founder and CEO. "We don't just believe in doing right by our customers. We believe in doing right by our Team Members, too. Toppers isn't your typical corporate pizza chain that's stuck in its ways—we're always looking for ways to raise the bar and further our Team Members' careers."
Toppers has a long history of helping passionate and dedicated Team Members move up through the ranks and build a successful career. The brand doesn't hire any outside managers—all of its leaders start out on the ground floor and are promoted into management positions. Even members of the brand's corporate team, like corporate operations director Adam Oldenburg, got their start as entry level Team Members.
Oldenburg first joined the Toppers team in March of 2006 while he was attending school at the University of Wisconsin's Whitewater campus. His first job with the brand was as a delivery driver. But after working with Matt Martin—his passionate and energetic store manager who now works as Toppers' director of training—he quickly moved up the ranks to an assistant manager position. After learning everything from managing costs and building sales to leading a fun and hard-working team, Oldenburg became the general manager of the brand's Milwaukee Eastside location. That then led to roles as a corporate area supervisor and the position he's in now, Toppers' first corporate operations director.
"I had never thought about being in the restaurant business until I joined Toppers. But I was hooked from the very first week I started. The brand opens up so many doors for its Team Members to grow and move up the ranks. I'm the perfect example—I started as a delivery driver, and now oversee 23 of Toppers' company-owned stores while leading a team of 600 Team Members and area supervisors," said Oldenburg. "I ascended the ladder by surrounding myself with positive people who are hungry to do more and have the never settle mentality. In this business, you have to be able to persevere through tons of challenges. But if you view those obstacles as opportunities to learn, it leads to success. By working hard, asking questions and putting yourself out there, there's no limit to what you can do at Toppers."
As Toppers looks for new Team Members, the brand is mainly focusing on hiring Team Members in the fast-growing Minneapolis, Milwaukee and Chicago markets.
About Toppers Pizza
Capitalizing on the booming better pizza category and fueled by the passion of Founder & President Scott Gittrich and a team of experienced industry veterans, Toppers Pizza has formulated the perfect recipe to appeal to both pizza enthusiasts and savvy investors. Headquartered in Wisconsin, Toppers is one of the fastest growing better-pizza chains in the United States. The brand has doubled in size over the last three years and completely sold out three states based on growth spurred by both existing franchisees and established multi-unit operators. Now with restaurants in 14 states and with territories immediately available across the country, Toppers is on its way to becoming a nationwide brand. Toppers is committed to quality and consistency throughout the system, and plans to maintain corporate ownership of 25 percent of all locations while the brand expands to continuously improve on best practices and product development. Toppers fanatics love the brand's fresh, handmade and customizable pizza baked in about 360 seconds and delivered extremely fast, with more than a million combinations of fresh, high quality toppings, and the brand's signature line of flavored Topperstix and baked Buffalo wings. In 2014, Entrepreneur Magazine ranked Toppers as one of the top 500 franchises in the U.S and in 2016, QSR Magazine listed the company as one of the year's Best Franchise Deals. For more information on how to join the rapidly growing Toppers family and for a sneak peek into the Toppers experience, visit http://www.toppersfranchise.com/.
# # #