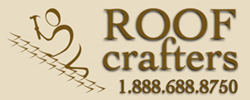 "We've been eyeing the Lafayette area for a long time," said Roof Crafters President, Chuck Magee"
(PRWEB) November 16, 2016
"We've been eyeing the Lafayette area for a long time," said Roof Crafters President, Chuck Magee, who has nearly three decades of roofing and construction experience.
Already, Roof Crafters is a presence in several markets throughout the state, including Ponchatoula, Denham Springs, Mandeville, Covington, Slidell, Hammond and Baton Rouge, where the company has been providing roofing services for years. Magee admits Roof Crafters has been considering an expansion into the Lafayette and Carencro market for quite some time. The area is the fifth wettest city in the United States with annual rainfall averaging 62 inches, well above the national average of 30 inches. But it wasn't until the company hired Samuel that it felt confident making its push into the area official.
"When we tapped Brandon for this expansion, we knew we had the right person to finally make our move into this market," Magee said. "His sales, service and customer satisfaction experience, coupled with his knowledge of Roof Crafters made an excellent combination."
Roof Crafters' leaders have worked in building and real estate, collecting experience from every facet of the industry, from sales to remodeling and rehabbing to new construction. They combined that experience several years ago to form Roof Crafters, and now offer a variety of residential roofing services throughout Louisiana, including free quotes, digital roof analysis, roof repairs and maintenance.
The company not only offers quality roofing products and competitive prices, but Magee and company have made dedicated efforts to include environmentally sustainable designs that limit a homeowner's local footprint. Those are all advantages Roof Crafters hopes to leverage into a strong presence in Lafayette.
"We are excited to have this opportunity to serve the Lafayette and Carencro Louisiana area," Magee said.
Roof Crafters is a proud, accredited member of the Better Business Bureau.