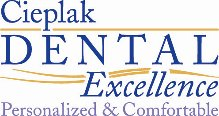 La Plata, MD (PRWEB) November 09, 2016
Patients with missing teeth are now welcome to visit Dr. Patrick Cieplak for dental implants in La Plata, MD, with or without a referral. Dr. Cieplak is an experienced dentist who has placed more than 6,000 dental implants and recommends implants as a long-term tooth replacement procedure. Dr. Cieplak is highly respected in his field and has received Fellow status in the International Congress of Oral Implantology.
Tooth loss can stem from a variety of causes, including injury, periodontal disease and tooth decay. According to the American College of Prosthodontists, over 178 million Americans are missing at least one tooth. Despite being a very common condition, many fail to seek treatment for their missing teeth until it has caused additional serious issues. Leaving tooth loss untreated can lead to shifting of the remaining teeth in the mouth and notable bone loss in the jaw. Bone loss can lead to further tooth loss and a sunken facial shape. Dental implants can help combat both of these issues by filling large gaps in the teeth with customized crowns and by stimulating bone growth in the jaw with state-of-the-art titanium implants. Dr. Cieplak uses cutting-edge technology to create custom implants that are designed to look, fit and feel like natural teeth once they are fully healed.
Dr. Cieplak holds the honor of receiving the Academy of General Dentistry's Master's Degree, which has only been given to 3,000 dentists. He has been serving dental patients in La Plata for more than 30 years and proudly offers the latest effective services to his patients. As a result, Dr. Cieplak recommends dental implant placement in order to improve smiles cosmetically and functionally.
Patients who want long-term tooth replacements that are comfortable and attractive are invited to receive dental implants in La Plata, MD from Dr. Cieplak. Appointments with the trusted dentist can be reserved by calling Cieplak Dental Excellence at 301-609-9999.
About the Doctor
Dr. Patrick Cieplak is a general dentist offering personalized dental care to patients in La Plata, MD. Dr. Cieplak is dedicated to learning the latest dental techniques and has completed hundreds of hours of continuing education courses. Dr. Cieplak is one of only 3,000 dentists to receive the Academy of General Dentistry's Master's Degree and he is a Fellow in the International Congress of Oral Implantology as well as Associate Fellow in the American Academy of Implant Dentistry. Cieplak Dental Excellence strives to offer each patient customized treatment to help them achieve proper oral health. To learn more about Dr. Cieplak, his team or the services they offer, please visit http://www.patcieplakdds.com or call (301) 609-9999 to schedule an appointment.