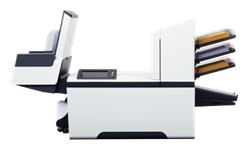 Addison, IL (PRWEB) November 09, 2016
Today, FP Mailing Solutions announces the launch of a new folder inserter solution that raises the bar in efficiency, the FPi 4700. This machine offers an easy-to-use interface and enhanced user experiences that truly allows for a simple, uninterrupted mail production. The FPi 4700 is available for purchase at any Authorized FP Dealer.
The FPi 4700 provides an enhanced value to customers by being convenient, intelligent and influential.
The optional feeder and tray configurations offer customers flexible options and increased capacity when processing their mail. The FPi 4700's flexibility coupled with the intuitive new job set-up makes programming complex jobs easier.
The FPi 4700 boasts enhanced barcode reading (2D and 1D), OMR and OCR reading capabilities that aid in automating mailroom processes. This machine locates barcodes automatically, allowing customers to process complex mail runs quickly.
This machine can easily detect document thickness and length to ensure document security and integrity. There is no longer a need to manually check mail pieces which positively influences the trust level that customers have with this machine. Customers can start a job and enjoy the luxury of focusing on other mailroom tasks while it runs.
"FP is continuously looking for ways to provide the right solutions to help FP customers automate processes and streamline their businesses. FP is providing a product that not only increases mailroom efficiency, but helps customers comply with regulations and reduce risk," said Mo Bowlus, National Sales and Product Marketing Manager at FP Mailing Solutions.
The FPi 4700 is backed by powerful capabilities and increased efficiency that allows customers to focus on what really matters, their business.
"The mailing industry is evolving and customers are looking to FP for ways to create a more intelligent mailroom. The FPi 4700's barcode reading capabilities will play an integral role in simplifying the way FP customers process their mail," said Carl Amacker, CEO of FP Mailing Solutions.
FP Mailing Solutions is committed to being environmentally friendly. This folder inserter features an energy saving automatic standby feature that allows the machine to rest idly while it is not being used.
To learn more, visit fp-usa.com/FPi-4700.
ABOUT FP MAILING SOLUTIONS
FP Mailing Solutions revolutionized mailroom technology with the introduction of the first digital meter. Today FP is one of the leading postage meter, folder inserter, address management and mail stream solutions providers, offering a wide range of mail center products and services designed to create seamless mailing solutions. The company is plugged into over 230,000 mailrooms worldwide, and is the fastest growing mail machines and systems vendor in the U.S. FP believes in providing all of their customers mailability and quality mailing experiences with minimal error. To learn more about FP Mailing Solutions, visit fp-usa.com.