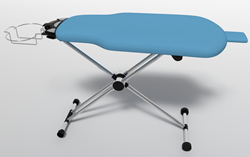 Livingston NJ (PRWEB) November 17, 2016
Sharkk Labs, a division of leading in-home and lifestyle brand Sharkk, today announced the launch of its innovative torso-shaped 360° rotating ironing board, Flippr, on Kickstarter. Flippr brings a totally new way to iron into every home, making the mundane task of ironing not only easier, but faster and more enjoyable as well.
No more fussing with awkward shirts or fumbling to get that perfect crease in pants. The Flippr's 360° rotating board design allows anyone to easily iron an entire shirt without shifting, cutting ironing time from 8 minutes to just 2 minutes. Two sets of built-in pant clips keep pants locked down tight, freeing up a hand and making ironing them a breeze. The detachable detail board also ensures no wrinkles are left behind. The solid no-wobble frame features an ergonomic wide torso shape that accommodates items both large and small. The Flippr also features 8 levels of height adjustment, making it great for sitting, standing or anything in between.
Flippr Features:

360-degree Rotation: Iron an entire shirt with just a flip of a board
Ergonomic & Wide: Torso-shaped board is great for larger items
Stable: Solid aluminum frame is built strong to last a lifetime
Adjustable Height: 8 levels of height adjustment make the Flippr ideal for sitting or standing
Accessories: In & out detachable iron pocket, two sets of pant clips and detachable detail board
Easy to Clean: Removable cotton cover makes cleaning a breeze
Easy Carry & Storage: Built-in wheels and simple stand-up storage
Winner of the 2016 A'Design Award, and the Global Innovation Award for retail excellence, the Flippr will forever change the way you iron.
The Flippr 360° ironing board is backing now on Kickstarter for early birds for just $89.99, with an MSRP of $149.99, and will be shipping in time Christmas. To help give back this holiday season, for every backer received, Sharkk will deliver a pair of holiday smiley socks to a children's hospital, uplifting another child in need. For more information visit the Flippr on Kickstarter.
Connect with Flippr on Twitter, https://twitter.com/theflippr and Facebook, https://www.facebook.com/theflippr/
About Sharkk Labs
Sharkk Labs, a division of Sharkk, focuses on bringing innovative products to consumers through crowdfunding platforms. Sharkk Labs maintains the highest standards of a premium-product experience – without the premium price tag.
For additional information about Sharkk, please visit: sharkk.com
For additional information about Flippr, please visit flippr.com