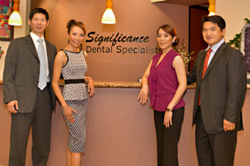 Las Vegas, NV (PRWEB) November 09, 2016
Drs. Allen Huang and Jeffery Wang, board certified periodontists with Significance Dental Specialists, are excited to announce their upcoming continuing education (CE) course dedicated to All-on-4® dental implants. This course will take place on November, 17, 2016 at The Range 702 in Las Vegas, NV. During the course, skilled dental professionals will be able to discuss current and past cases as well as cutting-edge research in order to provide their patients with state-of-the-art treatment for dental implants in Las Vegas, NV.
The Significance Dental Specialists team will facilitate an open forum discussion dedicated to the All-on-4® full-arch tooth replacement treatment with a focus on advancing their community's understanding of this technique. Dental professionals can bring lower case complications and new findings to further All-on-4® care. The All-on-4® technique uses implant supported dentures that combine the advantages of dentures with those of implants to create a full arch that is fully supported and fixed. This solution is a cost effective form of dental implants in Las Vegas, NV, and are more minimally invasive than traditional implant care. Many patients do not qualify for traditional implants, as a result of low bone mass or a variety of other issues, however All-on-4® is the reliable alternative that offers a completely new arch of teeth.
Traditional dentures require messy, ineffective pastes and adhesives and frequently cause embarrassment from clicking and slipping during eating or while talking. The All-on-4® treatment is permanently fixed in place offering a long-term, dependable solution. There is also little need for bone grafting in this procedure, and patients often report a shorter recovery period than if they had received traditional implants. Bone growth is also stimulated from the titanium dental implant posts placed in the jaw bone, preventing future bone loss and maintaining proper oral health.
The Significance Dental Specialists team hopes that by hosting this forum other dental professionals will expand their All-on-4® implant treatment, and more patients will receive the cutting-edge care they need. Those interested in attending the CE course are invited to call 702-239-8178. Patients interested in receiving dental implants in Las Vegas, NV, from an experienced periodontist are encouraged to contact Significance Dental Specialists at 844-801-3177.
About the Doctor
Dr. Allen Huang is a Board Certified Periodontist and Implant Specialist, offering personalized dental care for patients in Las Vegas, NV. Dr. Huang received his degree in Bio-Chemical Engineering from the University of California at Los Angeles. He went on to earn his DMD degree from the University of Pennsylvania School of Dental Medicine. Following his general dental training, Dr. Huang received a full 3-year scholarship to train in Periodontics and Implant Dentistry at University of Illinois at Chicago. During his training, Dr. Huang received many academic honors, and was named as the first Chief-Resident in program history. In addition to his specialty training, Dr. Huang also obtained a Master of Science (MS) degree in oral biology from the University of Illinois where he conducted clinical and histological research in bone regeneration in furcation defects in baboons. Dr. Huang was also involved in clinical and histological study of platelet rich plasma (PRP) in sinus lift bone regeneration project. Dr. Huang is a Diplomate of the American Academy of Periodontology and a member of the America Academy of Periodontology, American Academy of Osseointegration, Academy of Dental Association and Southern Nevada Dental Society. In addition, Dr. Huang recently started his own dental implant company and is the CEO of Altosbiotech, LLC. Dr. Jeffrey Wang is a Board Certified Periodontist and Implant Specialist, and is committed to the maintenance, restoration health and aesthetics of the mouth. Dr. Wang attended the University of Michigan for his undergraduate education. He completed his dental training in the University of Pennsylvania, School of Dental Medicine. He went on to pursue his post-doctoral training and certification in periodontics and implantology in the University of California, San Francisco, where he also received his master's degree. To learn more about the services Dr. Huang and Dr. Wang provide please visit their website at http://www.sdsdental.com or call (844) 801-3177.